Subaru Outback: Compass zone adjustment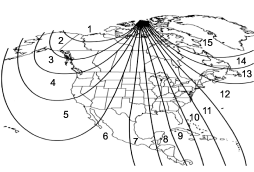 Compass calibration zones
1. Refer to the "Compass calibration zones" map shown above to verify that the compass zone setting is correct for your geographical location.
2. Press and hold the compass display button for 3 seconds until the zone selection comes up (a number will be displayed in the mirror compass window).
3. Press the compass display button repeatedly until the correct zone setting for your location is displayed.
4. Releasing the button for 5 seconds will exit the zone setting mode.
READ NEXT:
1. If a "C" is displayed in the compass window, the compass needs to be calibrated. 2. Drive the vehicle in a circle at 5 mph (8 km/h) or less until the display reads a direction. 3. Your can
The HomeLink® Wireless Control System can be used to activate remote control devices such as gate operators, garage door openers, door locks, home lighting and security systems. There are three
SEE MORE:
1) Solar sensor 2) Interior air temperature sensor The automatic climate control system employs several sensors. These sensors are delicate. If they are treated incorrectly and become damaged, the system may not be able to control the interior temperature correctly. To avoid damaging the sen
CAUTION ● Do not let dust, oil or water get on or in the transmitter when replacing the battery. ● Be careful not to damage the printed circuit board in the transmitter when replacing the battery. ● Be careful not to allow children to touch the battery and any removed parts;
© 2010-2022 Copyright www.suoutback.com