Subaru Outback: Reclining the seatback (Outback)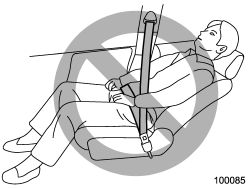 WARNING
To prevent the passenger from sliding under the seatbelt in the event of a collision, always put the seatback in the upright position while the vehicle is in motion.
CAUTION
If the vehicle is equipped with a cargo area cover, observe the following precautions.
● Be careful not to pinch your hand between the headrest and the cargo area cover when you recline the rear seat.
● Move the front cover of the cargo area cover backward so that the cover is not damaged by the reclined seatback. Refer to "Cargo area cover" F6-15.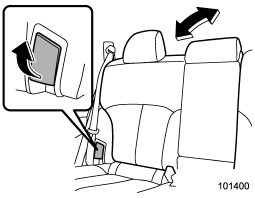 Pull the lever and adjust the seatback to the desired position.
Then release the lever and make sure the seatback is securely locked into place.
READ NEXT:
WARNING ● When you fold down the seatback, check that there are no passengers or objects on the rear seat. Not doing so creates a risk of injury or property damage if the seatback suddenly
Unlock the seatback by pulling the release lever and then fold the seatback down. To return the seatback to its original position, raise the seatback until it locks into place and make sure that
Both the rear window side seats and the rear center seat are equipped with head restraints. WARNING ● Never drive the vehicle with the head restraints removed because they are designed to
SEE MORE:
WARNING Drinking and then driving is very dangerous. Alcohol in the bloodstream delays your reaction and impairs your perception, judgment and attentiveness. If you drive after drinking – even if you drink just a little – it will increase the risk of being involved in a serious or fatal a
CAUTION ● When washing the vehicle, the brakes may get wet. As a result, the brake stopping distance will be longer. To dry the brakes, drive the vehicle at a safe speed while lightly pressing the brake pedal to heat up the brakes. ● Do not wash the engine compartment and areas adj
© 2010-2023 Copyright www.suoutback.com