Subaru Outback: Engine oil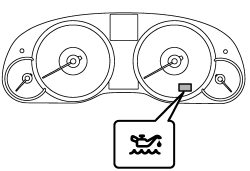 NOTE
● When the engine low oil level warning light illuminates, have your vehicle inspected by your SUBARU dealer as soon as possible.
● The engine oil consumption rate is not stabilized, and therefore cannot be determined until the vehicle has traveled at least several thousand miles (kilometers). Even after break-in, when the vehicle is used under severe driving conditions such as those mentioned in the Warranty and Maintenance Booklet, engine oil is consumed or deteriorated more quickly than under normal driving conditions. If you drive your vehicle under these severe conditions, you should check the oil level at least at every second fuel fill-up time, and change the oil more frequently. Please refer to the Warranty and Maintenance Booklet for more details.
● If the oil consumption rate seems abnormally high after the break-in period, for example more than 1 quart per 1,200 miles or 1 liter per 2,000 kilometers, we recommend that you contact your SUBARU dealer.
READ NEXT:
Check the engine oil level at each fuel stop. 1. Park the vehicle on a level surface and stop the engine. If you check the oil level just after stopping the engine, wait a few minutes for the oil t
Change the oil and oil filter according to the maintenance schedule in the "Warranty and Maintenance Booklet". The engine oil and oil filter must be changed more frequently than listed in the
CAUTION Use only engine oil with the recommended grade and viscosity. NOTE Engine oil viscosity (thickness) affects fuel economy. Oils of lower viscosity provide better fuel economy. However, in
SEE MORE:
A: REMOVAL 1. SEDAN MODEL CAUTION: Refer to "CAUTION" of "General Description" before handling the airbag module. <Ref. to AB-9, CAUTION, General Description.> 1) Turn the ignition switch to OFF. 2) Disconnect the ground cable from battery and wait for at least 60 seconds before starting wo
A: SPECIFICATION B: CAUTION Before disassembling or reassembling parts, always disconnect the battery ground cable from battery. When replacing the audio, control module and other parts provided with memory functions, record the memory contents before disconnecting the battery ground cable.
© 2010-2023 Copyright www.suoutback.com