Subaru Outback: Checking the oil level
Check the engine oil level at each fuel stop.
1. Park the vehicle on a level surface and stop the engine. If you check the oil level just after stopping the engine, wait a few minutes for the oil to drain back into the oil pan before checking the level.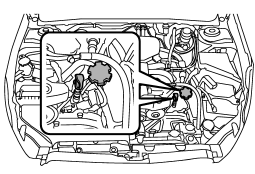 2. Pull out the level gauge, wipe it clean, and insert it again.
3. Be sure the level gauge is correctly inserted until it stops with the graphic symbol "

" on its top appearing as shown
in the illustration.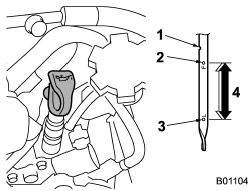 2.5 L models
1) Notch
2) Full level
3) Low level
4) Approximately 1.1 US qt (1.0 liter, 0.9 Imp qt) from low level to full level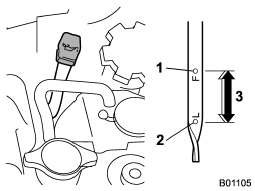 3.6 L models
1) Full level
2) Low level
3) Approximately 1.1 US qt (1.0 liter, 0.9 Imp qt) from low level to full level
4. Pull out the level gauge again and check the oil level on it. If it is below the low level (L), add oil to bring the level up to the full level (F).
CAUTION
● Use only engine oil with the recommended grade and viscosity.
● Be careful not to spill engine oil when adding it. If oil touches the exhaust pipe, it may cause a bad smell, smoke, and/or a fire. If engine oil gets on the exhaust pipe, be sure to wipe it off.
NOTE
● To prevent overfilling the engine oil, do not add any additional oil above the upper level when the engine is cold.
● In 2.5 L engine models, the level gauge has a notch above the upper level. Just after driving or while the engine is warm, the engine oil level reading may be in a range between the upper level and the notch mark. This is caused by thermal expansion of the engine oil.
READ NEXT:
Change the oil and oil filter according to the maintenance schedule in the "Warranty and Maintenance Booklet". The engine oil and oil filter must be changed more frequently than listed in the
CAUTION Use only engine oil with the recommended grade and viscosity. NOTE Engine oil viscosity (thickness) affects fuel economy. Oils of lower viscosity provide better fuel economy. However, in
You should use synthetic engine oil that meets the same requirements given for conventional engine oil. When using synthetic oil, you must use oil of the same classification, viscosity and grade s
SEE MORE:
REMOVAL 1) Remove the manual transmission assembly from the vehicle. <Ref. to 6MT-25, REMOVAL, Manual Transmission Assembly.> 2) Remove the back-up light switch neutral position switch. <Ref. to 6MT-37, REMOVAL, Switches and Harness.> 3) Remove the transfer case together with the exten
Grease, wax, insects, or other materials on the windshield or the wiper blade results in jerky wiper operation and streaking on the glass. If you cannot remove the streaks after operating the windshield washer or if the wiper operation is jerky, clean the outer surface of the windshield (or re
© 2010-2023 Copyright www.suoutback.com