Subaru Outback: Main fuse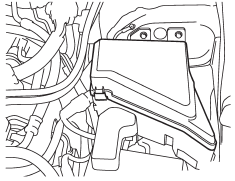 Main fuse box
The main fuses are designed to melt during an overload to prevent damage to the wiring harness and electrical equipment. Check the main fuses if any electrical component fails to operate (except the starter motor) and other fuses are good. A melted main fuse must be replaced. Use only replacements with the same specified rating as the melted main fuse. If a main fuse blows after it is replaced, have the electrical system checked by your nearest SUBARU dealer.
READ NEXT:
Always consult your SUBARU dealer before installing fog lights or any other electrical equipment in your vehicle. Such accessories may cause the electronic system to malfunction if they are incorr
WARNING Bulbs may become very hot while illuminated. Before replacing bulbs, turn off the lights and wait until the bulbs cool down, Otherwise, there is the risk of sustaining a burn injury. CAU
CAUTION Halogen headlight bulbs become very hot while in use. If you touch the bulb surface with bare hands or greasy gloves, fingerprints or grease on the bulb surface will develop into hot spot
SEE MORE:
A: REPLACEMENT Replace the following parts if the airbag has been activated. 1. FRONT COLLISION 1) Driver's airbag module. 2) Passenger's airbag module. 3) Driver's seat belt (pretensioner). 4) Passenger's seat belt (pretensioner). 5) Airbag control module. 6) Front sub sensor (right and left).
Compass calibration zones 1. Refer to the "Compass calibration zones" map shown above to verify that the compass zone setting is correct for your geographical location. 2. Press and hold the switch for 6 seconds until the zone selection comes up (a number will be displayed in the mirror
© 2010-2022 Copyright www.suoutback.com