Subaru Outback: Tilting moonroof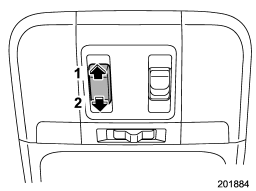 1) Raise
2) Lower
The raising function will only operate when the moonroof is fully closed. The lowering function will only operate when the moonroof is raised.
Press the rear side of the "UP/DOWN" switch to raise the moonroof. Press the front side of the "UP/DOWN" switch to lower the moonroof.
Release the switch after the moonroof has been raised or has been lowered completely. Pressing the switch continuously may cause damage to the moonroof.
NOTE
One-touch operation does not take place when the moonroof is lowered. Press the switch continuously to lower the moonroof.
READ NEXT:
1) Open 2) Close Press the "OPEN/CLOSE" switch rearward to open the moonroof. The sun shade will also be opened together with the moonroof. For Outback, the moonroof will stop at a position
When the moonroof senses a substantial enough object trapped between its glass and the vehicle's roof during closure, it automatically moves back to the fully open position and stops there. The
The sun shade can be slid forward or backward by hand while the moonroof is closed. If the moonroof is opened, the sun shade also moves back.
SEE MORE:
General Description A: SPECIFICATION Offset P.C.D. NOTE: Size and inflation pressure of the standard equipment tire and spare tire for emergency are described on the "Tire inflation pressure" label attached to the body side of the driver's door. 1. SERVICE DATA B: COMPONENT TPMS & ke
If you remove the divider plate from the dual cup holders, you can use the center console box as a storage space. To use as storage space: Pull out the divider plate of the dual cup holder. To use again as cup holders: Insert the divider plate into the console box.
© 2010-2021 Copyright www.suoutback.com