Subaru Outback: Manual tuning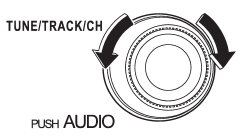 Turn the "TUNE/TRACK/CH" dial clockwise to increase the tuning frequency and turn the "TUNE/TRACK/CH" dial counterclockwise to decrease it.
Each time the dial is turned, the frequency interval can be changed between 10 kHz in the AM mode and 0.2 MHz in the FM mode.
READ NEXT:
The stereo indicator "ST" will illuminate when an FM stereo broadcast is received.
If you press the "" or "" side of the "SEEK" button briefly, the radio will automatically search for a receivable station and stop at the first one it finds. This function may not be
If you press the "SCAN" button, the radio will switch to the scan mode. In this mode, the radio scans through the radio band until a station is found. The radio will stop at the station for
SEE MORE:
A: SPECIFICATION Refer to "SPECIFICATIONS" in "FRONT SUSPENSION" section for rear suspension specifications. <Ref. to FS-2, SPECIFICATION, General Description.> NOTE: Front toe-in, rear toe-in and front camber can be adjusted. Adjust if the value of toe-in or camber exceeds the tolerance
A: REMOVAL 1) Remove the transmission assembly from the vehicle. <Ref. to 5AT-37, REMOVAL, Automatic Transmission Assembly.> 2) Remove the rear vehicle speed sensor, and then remove the extension case. <Ref. to 5AT-65, REMOVAL, Extension Case.> 3) Pull out the rear drive shaft from ce
© 2010-2023 Copyright www.suoutback.com