Subaru Outback: Manual tuning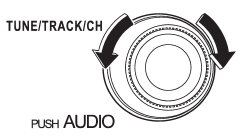 Turn the "TUNE/TRACK/CH" dial clockwise to increase the tuning frequency and turn the "TUNE/TRACK/CH" dial counterclockwise to decrease it.
Each time the dial is turned, the frequency interval can be changed between 10 kHz in the AM mode and 0.2 MHz in the FM mode.
READ NEXT:
The stereo indicator "ST" will illuminate when an FM stereo broadcast is received.
If you press the "" or "" side of the "SEEK" button briefly, the radio will automatically search for a receivable station and stop at the first one it finds. This function may not be
If you press the "SCAN" button, the radio will switch to the scan mode. In this mode, the radio scans through the radio band until a station is found. The radio will stop at the station for
SEE MORE:
If the select lever cannot be operated, turn the ignition switch back to the "ON" position then move the select lever to the "P" position with the select lever button pressed and brake pedal depressed. If the select lever does not move after performing the above procedure, perform the
WARNING ● Child restraint systems and seatbelts can become hot in a vehicle that has been closed up in sunny weather; they could burn a small child. Check the child restraint system before you place a child in it. ● Do not leave an unsecured child restraint system in your vehicle.
© 2010-2023 Copyright www.suoutback.com