Subaru Outback: Seat heater (if equipped)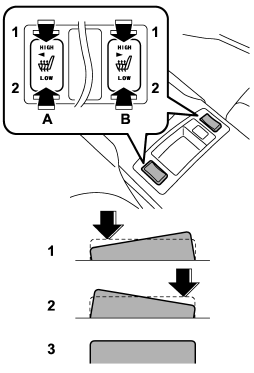 1) HIGH – Rapid heating 2) LOW – Normal heating
3) OFF – Off
A) Left-hand side
B) Right-hand side
The seat heater operates when the ignition switch is either in the "Acc" or "ON" position.
To turn on the seat heater, press the "LOW" or "HIGH" position on the switch, as desired, depending on the temperature. Selecting the "HIGH" position will cause the seat to heat up quicker.
To turn off the seat heater, slightly press the opposite side of the current position. The indicator located on the switch illuminates when the seat heater is in operation. When the vehicle's interior is warmed enough or before you leave the vehicle, be sure to turn the switch off.
CAUTION
● There is a possibility that people with delicate skin may suffer slight burns even at low temperatures if they use the seat heater for a long period of time. When using the heater, always be sure to warn the persons concerned.
● Do not put anything on the seat which insulates against heat, such as a blanket, cushion, or similar items. This may cause the seat heater to overheat.
NOTE
Use of the seat heater for a long period of time while the engine is not running can cause battery discharge.
READ NEXT:
WARNING Seatbelts provide maximum restraint when the occupant sits well back and upright in the seat. Do not put cushions or any other materials between occupants and seatbacks or seat cushions
WARNING To prevent the passenger from sliding under the seatbelt in the event of a collision, always put the seatback in the upright position while the vehicle is in motion. CAUTION If the vehi
WARNING ● When you fold down the seatback, check that there are no passengers or objects on the rear seat. Not doing so creates a risk of injury or property damage if the seatback suddenly
SEE MORE:
A: SPECIFICATION 1. 2.5 L MODEL 2. 3.6 L MODEL B: COMPONENT 1. STARTER Starter housing Magnet switch ASSY Shift lever Starter seal Overrunning clutch ASSY Washer Planetary gear Starter plate Yoke Armature Brush holder ASSY Drain duct Starter cover Tightening torque: N*m (kgf-m, ft-
● Accessory weight The combined weight (in excess of those standard items which may be replaced) of automatic transmission, power steering, power brakes, power windows, power seats, radio, and heater, to the extent that these items are available as factory-installed equipment (whether i
© 2010-2023 Copyright www.suoutback.com