Subaru Outback: START
CAUTION
Do not turn the ignition switch to the "START" position while the engine is running.
The engine is started in this position. The starter cranks the engine to start it. When the key is released (after the engine has started), the key automatically returns to the "ON" position.
If the engine does not start with your registered key, pull out the key once (at this time, the security indicator light will blink), wait for at least 10 seconds, reinsert the key in the ignition switch and then try to start the engine again.
NOTE
The engine may not start in the following cases: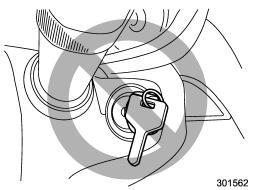 ● The key grip is touching another key or a metallic key holder.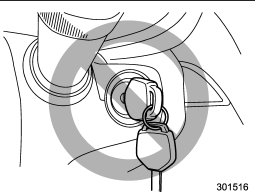 ● The key is near another key that contains an immobilizer transponder.
● The key is near or touching another transmitter.
READ NEXT:
The reminder chime sounds when the driver's door opens and the key is in the "LOCK" or "Acc" positions. The chime stops when the ignition switch is turned to the "ON" position or the
For easy access to the ignition switch in the dark, the ignition switch light illuminates when driver's door is opened or when the driver's door is unlocked using the remote keyless entry tran
The hazard warning flasher is used to warn other drivers when you have to park your vehicle under emergency conditions. The hazard warning flasher works with the ignition switch in any position.
SEE MORE:
The EBD system maximizes the effectiveness of the brakes by allowing the rear brakes to supply a greater proportion of the braking force. It functions by adjusting the distribution of braking force to the rear wheels in accordance with the vehicle's loading condition and speed. The EBD syst
A: DTC 11 DRIVER'S AIRBAG FAILURE NOTE: Be sure to properly identify the Airbag system type prior to performing any diagnostics. 1. TYPE A DTC DETECTING CONDITION: Airbag main harness circuit is open, shorted or shorted to ground. Airbag module harness (Driver's side) circuit is open, shorted or
© 2010-2023 Copyright www.suoutback.com