Subaru Outback: 3.6 L models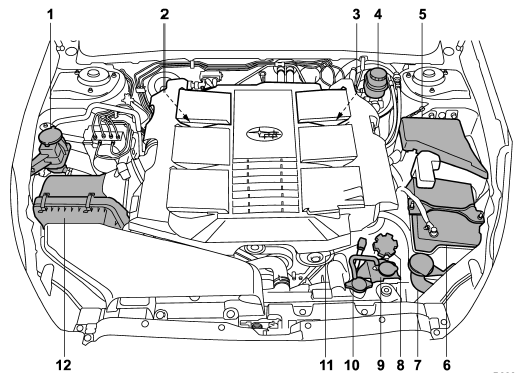 1) Power steering fluid reservoir (page 11-27) 2) Differential gear oil level gauge (page 11-26) 3) Automatic transmission fluid level gauge (page 11-24) 4) Brake fluid reservoir (page 11-28) 5) Fuse box (page 11-46) 6) Battery (page 11-45)
7) Windshield washer tank (page 11-40) 8) Engine oil filler cap (page 11-12) 9) Engine coolant reservoir (page 11-17) 10) Radiator cap (page 11-17) 11) Engine oil level gauge (page 11-12) 12) Air cleaner case (page 11-19)
READ NEXT:
NOTE ● When the engine low oil level warning light illuminates, have your vehicle inspected by your SUBARU dealer as soon as possible. ● The engine oil consumption rate is not stabil
Check the engine oil level at each fuel stop. 1. Park the vehicle on a level surface and stop the engine. If you check the oil level just after stopping the engine, wait a few minutes for the oil t
Change the oil and oil filter according to the maintenance schedule in the "Warranty and Maintenance Booklet". The engine oil and oil filter must be changed more frequently than listed in the
SEE MORE:
This meter displays the odometer when the ignition switch is in the "ON" position. The odometer shows the total distance that the vehicle has been driven. If you press the trip knob when the ignition switch is in the "LOCK" or "Acc" position, the odometer/trip meter will light up.
1. Input the phone number to be registered. Refer to "Inputting the phone number" F5-36. 2. Say the name to be registered. 3. "Confirm" is displayed. 4. Press the "TUNE/TRACK/CH" dial. 5. "Stored" is displayed. 6. Select "Speed Dial" by operating the "TUNE/TRACK/CH" di
© 2010-2023 Copyright www.suoutback.com