Subaru Outback: Catalytic converter
WARNING
● Avoid fire hazards. Do not drive or park the vehicle anywhere near flammable materials (e.g. grass, paper, rags or leaves), because the catalytic converter operates at very high temperatures.
● Keep everyone and flammable materials away from the exhaust pipe while the engine is running. The exhaust gas is very hot.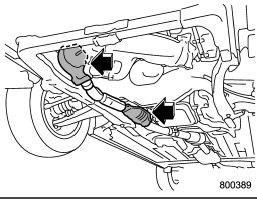 2.5 L non-turbo models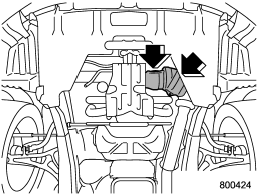 2.5 L turbo models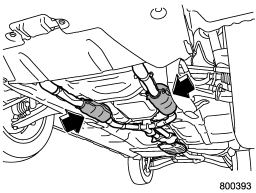 3.6 L models
The catalytic converter is installed in the exhaust system. It serves as catalyst to reduce HC, CO and NOx in exhaust gases, thus providing cleaner exhaust.
To avoid damage to the catalytic converter:
● Use only unleaded gasoline. Even a small amount of leaded gasoline will damage the catalytic converter.
● Never start the engine by pushing or pulling the vehicle.
● Avoid racing the engine.
● Never turn off the ignition switch while the vehicle is moving.
● Keep your engine tuned-up. If you feel the engine running rough (misfiring, backfiring or incomplete combustion), have your vehicle checked and repaired by an authorized SUBARU dealer.
● Do not apply undercoating or rust prevention treatment to the heat shield of catalytic converter and the exhaust system.
● Do not drive with an extremely low fuel level.
READ NEXT:
To keep your vehicle in the best condition at all times, always have the recommended maintenance services listed in the maintenance schedule in the "Warranty and Maintenance Booklet" performed
When planning to use your vehicle in another country: ● Confirm the availability of the correct fuel. Refer to "Fuel requirements" F7-2. ● Comply with all regulations and requireme
WARNING ● Always maintain a safe driving speed according to the road and weather conditions in order to avoid having an accident on a sharp turn, during sudden braking or under other simila
SEE MORE:
A: REMOVAL CAUTION: Directly after the vehicle has been running or the engine has been long idle running, the CVTF is hot. Be careful not to burn yourself. Be careful not to spill CVTF on the exhaust pipe to prevent it from emitting smoke or causing a fire. If gear oil adheres, wipe it off
A: OPERATION 1. HOW TO USE SUBARU SELECT MONITOR NOTE: For detailed operation procedures, refer to "PC application help for Subaru Select Monitor". If communication is not possible between the electronic parking brake control module and the Subaru Select Monitor, check the communication circu
© 2010-2023 Copyright www.suoutback.com