Subaru Outback: Checking the brake pedal reserve distance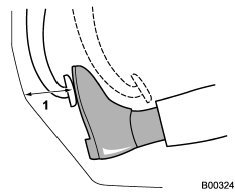 1) More than 2.56 in (65 mm)
Depress the pedal with a force of approximately 66 lbf (294 N, 30 kgf) and measure the distance between the upper surface of the pedal pad and the floor.
When the measurement is smaller than the specification, or when the pedal does not operate smoothly, contact with your SUBARU dealer.
READ NEXT:
Check the clutch pedal free play and reserve distance according to the maintenance schedule in the "Warranty and Maintenance Booklet".
Check the clutch engagement and disengagement. 1. With the engine idling, check that there are no abnormal noises when the clutch pedal is depressed, and that shifting into 1st or reverse feels smo
1) 0.19 – 0.44 in (5 – 11 mm) Lightly press the clutch pedal down with your finger until you feel resistance, and check the free play. If the free play is not within proper specification, co
SEE MORE:
Chemicals, salts and gravel used for deicing road surfaces are extremely corrosive, accelerating the corrosion of underbody components, such as the exhaust system, fuel and brake lines, brake cables, floor pan and fenders, and suspension. Thoroughly flush the underbody and inside of the fender
A: SPECIFICATION 1. HEATER SYSTEM 2. A/C SYSTEM 3. BASIC OPERATION The cooling system cools down the compartment by using the pipes connecting parts and cycling the evaporable liquid (refrigerant) within the sealed system in a repeated process of "vaporization - liquefaction - re-vaporization".
© 2010-2023 Copyright www.suoutback.com