Subaru Outback: Checking the clutch pedal free play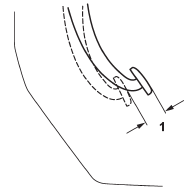 1) 0.19 – 0.44 in (5 – 11 mm)
Lightly press the clutch pedal down with your finger until you feel resistance, and check the free play.
If the free play is not within proper specification, contact your SUBARU dealer.
READ NEXT:
CAUTION If you continue to drive despite the scraping noise from the audible brake pad wear indicator, it will result in the need for costly brake rotor repair or replacement. The right front di
When replacing the brake pad or lining, use only genuine SUBARU parts. After replacement, the new parts must be broken in as follows:
While maintaining a speed of 30 to 40 mph (50 to 65 km/h), step on the brake pedal lightly. Repeat this five or more times.
SEE MORE:
NOTE For details about how to check the coolant level or how to add coolant, refer to "Engine coolant" F11-17. 1. Keep the engine running at idling speed. 2. Open the hood to ventilate the engine compartment. Refer to "Engine hood" F11-7. Confirm that the cooling fan is turning. If t
A: REMOVAL 1) Remove the transmission from the vehicle. <Ref. to CVT-55, REMOVAL, Automatic Transmission Assembly.> 2) Prepare for overhaul. <Ref. to CVT-135, Preparation for Overhaul.> 3) Remove the transmission harness ground terminal and remove the harness connectors from front wh
© 2010-2023 Copyright www.suoutback.com