Subaru Outback: Replacement of brake pad and lining
CAUTION
If you continue to drive despite the scraping noise from the audible brake pad wear indicator, it will result in the need for costly brake rotor repair or replacement.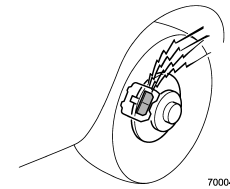 The right front disc brake and the right rear disc brake have audible wear indicators on the brake pads. If the brake pads wear close to their service limit, the wear indicator makes a very audible scraping noise when the brake pedal is applied.
If you hear this scraping noise each time you apply the brake pedal, have the brake pads serviced by your SUBARU dealer as soon as possible.
READ NEXT:
When replacing the brake pad or lining, use only genuine SUBARU parts. After replacement, the new parts must be broken in as follows:
While maintaining a speed of 30 to 40 mph (50 to 65 km/h), step on the brake pedal lightly. Repeat this five or more times.
The break-in maintenance for the parking brake linings should be performed at a SUBARU dealer.
SEE MORE:
If the light is blinking while driving, an engine misfire condition has been detected which may damage the emission control system. To prevent serious damage to the emission control system, you should conform to the following instructions. ● Reduce vehicle speed. ● Avoid hard acce
1. Remove the lens by prying the edge of the lens with a flat-head screwdriver. 2. Turn the bulb until the flat surfaces at its ends are aligned vertically. 3. Pull the bulb straight downward to remove it. 4. Install a new bulb. 5. Reinstall the lens.
© 2010-2023 Copyright www.suoutback.com