Subaru Outback: Manual transmission
WARNING
● Do not drive the vehicle with the clutch disengaged (i.e., when the clutch pedal is depressed) or with the shift lever in the neutral position. Engine braking has no effect in either of these conditions and the risk of an accident is consequently increased.
● Do not engage the clutch (i.e., release the clutch pedal) suddenly when starting the vehicle. By doing so the vehicle might unexpectedly accelerate or the transmission could malfunction.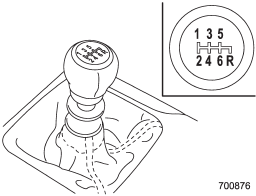 The manual transmission is a fully synchromeshed, 6-forward-speed and 1-reverse- speed transmission. The shift pattern is shown on the shift lever knob.
READ NEXT:
CAUTION Shift into reverse ONLY when the vehicle has completely stopped. It may cause damage to the transmission to try shifting into reverse when the vehicle is moving. 1) Slider You must rais
The best compromise between fuel economy and vehicle performance during normal driving is ensured by shifting up at the speeds listed in the following table.
SEE MORE:
When the fluid level has to be checked without time to warm up the automatic transmission, check to see that the fluid level is between the lower level and upper level on the "COLD" range. If it is below that range, add fluid up to the upper level. Be careful not to overfill. CAUTION Be
A: LIST Diagnostic Procedure with Diagnostic Trouble Code (DTC) A: DTC P0705 TRANSMISSION RANGE SENSOR CIRCUIT (PRNDL INPUT) DTC DETECTING CONDITION: The inhibitor switch is open or short. TROUBLE SYMPTOM: Shift characteristics are erroneous. Shift indicator does not match with select lever.
© 2010-2021 Copyright www.suoutback.com