Subaru Outback: Manual transmission
WARNING
● Do not drive the vehicle with the clutch disengaged (i.e., when the clutch pedal is depressed) or with the shift lever in the neutral position. Engine braking has no effect in either of these conditions and the risk of an accident is consequently increased.
● Do not engage the clutch (i.e., release the clutch pedal) suddenly when starting the vehicle. By doing so the vehicle might unexpectedly accelerate or the transmission could malfunction.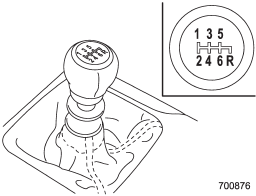 The manual transmission is a fully synchromeshed, 6-forward-speed and 1-reverse- speed transmission. The shift pattern is shown on the shift lever knob.
READ NEXT:
CAUTION Shift into reverse ONLY when the vehicle has completely stopped. It may cause damage to the transmission to try shifting into reverse when the vehicle is moving. 1) Slider You must rais
The best compromise between fuel economy and vehicle performance during normal driving is ensured by shifting up at the speeds listed in the following table.
SEE MORE:
1) Trip knob This meter displays the two trip meters when the ignition switch is in the "ON" position. The trip meter shows the distance that the vehicle has been driven since you last set it to zero. If you press the trip knob when the ignition switch is in the "LOCK" or "Acc"
NOTE ● When the engine low oil level warning light illuminates, have your vehicle inspected by your SUBARU dealer as soon as possible. ● The engine oil consumption rate is not stabilized, and therefore cannot be determined until the vehicle has traveled at least several thousand
© 2010-2023 Copyright www.suoutback.com