Subaru Outback: Selecting reverse gear
CAUTION
Shift into reverse ONLY when the vehicle has completely stopped. It may cause damage to the transmission to try shifting into reverse when the vehicle is moving.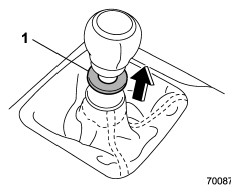 1) Slider
You must raise the slider and hold it in that position before you can move the shift lever to the "R" position.
To change gears, fully depress the clutch pedal, move the shift lever, and gradually let up on the clutch pedal.
If it is difficult to shift into gear, put the transmission in neutral, release the clutch pedal momentarily, and then try again.
READ NEXT:
The best compromise between fuel economy and vehicle performance during normal driving is ensured by shifting up at the speeds listed in the following table.
WARNING When shifting down a gear, ensure that the vehicle is not travelling at a speed exceeding the Maximum Allowable Speed for the gear which is about to be selected. Failure to observe this p
SEE MORE:
WARNING ● Child restraint systems and seatbelts can become hot in a vehicle that has been closed up in sunny weather; they could burn a small child. Check the child restraint system before you place a child in it. ● Do not leave an unsecured child restraint system in your vehicle.
A: REMOVAL 1) Disconnect the ground cable from battery. 2) Remove the steering column cover. Remove the screws by turning the steering wheel to right and left. Release the claws and remove the steering column lower cover. Separate the steering column upper cover and steering upper cover,
© 2010-2022 Copyright www.suoutback.com