Subaru Outback: Checking the oil level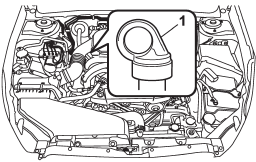 Non-turbo models
1) Yellow handle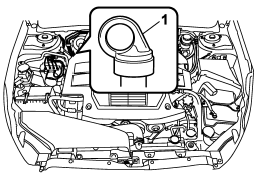 Turbo models
1) Yellow handle
Check the oil level monthly.
1. Park the vehicle on a level surface and stop the engine.
2. Pull out the level gauge, wipe it clean, and insert it again.

1) Upper level
2) Lower level
3. Pull out the level gauge again and check the oil level on it. If it is below the lower level, add oil through the level gauge hole to bring the level up to the upper level.
CAUTION
Be careful not to spill manual transmission oil when adding it. If oil touches the exhaust pipe, it may cause a bad smell, smoke, and/or a fire. If oil gets on the exhaust pipe, be sure to wipe it off.
READ NEXT:
Each oil manufacturer has its own base oils and additives. Never use different brands together. For details, refer to "Manual transmission, front differential and rear differential gear oil" F
The automatic transmission fluid expands largely as its temperature rises; the fluid level differs according to fluid temperature. Therefore, there are two different scales for checking the level
SEE MORE:
A: REMOVAL 1) Remove the manual transmission assembly from the vehicle. <Ref. to 6MT-25, REMOVAL, Manual Transmission Assembly.> 2) Remove the back-up light switch and the neutral position switch. <Ref. to 6MT-37, REMOVAL, Switches and Harness.> 3) Remove the transfer case together wit
AB:DTC P0131 O2 SENSOR CIRCUIT LOW VOLTAGE (BANK 1 SENSOR 1) 1. OUTLINE OF DIAGNOSIS Detect the open or short circuit of sensor. Judge as NG, when the element voltage is out of the specified range. 2. COMPONENT DESCRIPTION Electromotive force Air fuel ratio Lean Rich Exhaust gas ZrO2 3.
© 2010-2021 Copyright www.suoutback.com