Subaru Outback: Cleaning ventilator grille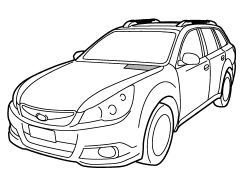 Always keep the front ventilator inlet grille free of snow, leaves, or other obstructions to ensure efficient heating and defrosting. Since the condenser is located in front of the radiator, this area should be kept clean because cooling performance is impaired by any accumulation of insects and leaves on the condenser.
READ NEXT:
After parking in direct sunlight, drive with the windows open for a few minutes to allow outside air to circulate into the heated interior. This results in quicker cooling by the air conditioner.
Operate the air conditioner compressor at a low engine speed (at idle or low driving speeds) a few minutes each month during the off-season to circulate its oil.
Check the air conditioner unit for refrigerant leaks, hose conditions, and proper operation each spring. Have the air conditioning system checked by your SUBARU dealer.
SEE MORE:
A: REMOVAL NOTE: For removal of front reduction driven gear, refer to the "Front Reduction Drive Gear". <Ref. to CVT-297, REMOVAL, Front Reduction Drive Gear.> B: INSTALLATION NOTE: For installation of front reduction driven gear, refer to the "Front Reduction Drive Gear". <Ref. to CVT-29
WARNING ● Do not remote start a vehicle in an enclosed environment (e.g. closed garage). Prolonged operation of a motor vehicle in an enclosed environment can cause a harmful build-up of Carbon Monoxide. Carbon Monoxide is harmful to your health. Exposure to high levels of Carbon Monoxi
© 2010-2023 Copyright www.suoutback.com