Subaru Outback: Locking and unlocking from the inside
WARNING
Keep all doors locked when you drive, especially when small children are in your vehicle.
Along with the proper use of seatbelts and child restraints, locking the doors reduces the chance of being thrown out of the vehicle in an accident.
It also helps prevent passengers from falling out by preventing a door from being accidentally opened, and intruders from unexpectedly opening doors and entering your vehicle.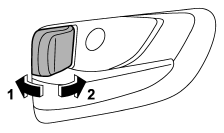 1) Lock
2) Unlock
To lock the door from the inside, rotate the lock lever rearward. To unlock the door from the inside, rotate the lock lever forward.
The red mark on the lock lever appears when the door is unlocked. Pull the inside door handle to open an unlocked door.
Always make sure that all doors and the rear gate (Outback) are closed before starting to drive.
READ NEXT:
If a door or the rear gate (Outback) is not completely closed, the interior lights will remain illuminated as a result. However, several lights are automatically turned off by the battery drainage
1) Lock 2) Unlock All doors and the rear gate (Outback) can be locked and unlocked by the power door locking switches located at the driver's side and the front passenger's side doors. To
This function prevents the doors from being locked with the key still in the ignition switch.
SEE MORE:
Perform the following procedure to release the shift lock. 1. Apply the parking brake and stop the engine. 2. Remove the shift lock cover using a flat-head screwdriver. 3. While depressing the brake pedal, insert the electronic parking brake release tool into the hole, press the shift lock
1) Multi function display switching knob With the ignition switch in the "ON" position, each successive press of the multi function display switching knob toggles the display in the following sequence.
© 2010-2023 Copyright www.suoutback.com