Subaru Outback: Power door locking switches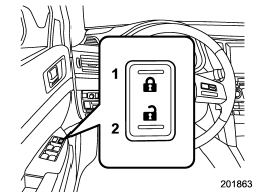 1) Lock
2) Unlock
All doors and the rear gate (Outback) can be locked and unlocked by the power door locking switches located at the driver's side and the front passenger's side doors. To lock the doors, press the front side of the switch.
To unlock the doors, press the rear side of the switch.
When you close the doors after you set the door locks, the doors remain locked.
NOTE
Make sure that you do not leave the key inside the vehicle before locking the doors from the outside using the power door locking switches.
READ NEXT:
This function prevents the doors from being locked with the key still in the ignition switch.
With the driver's door open, the doors are automatically kept unlocked even if the front side of the power door locking switch is pressed.
● If the lock lever is turned to the rear ("LOCK") position with the driver's door open and the driver's door is then closed with the lock lever in that position, the driver's door
SEE MORE:
WARNING ● Never turn the ignition switch to "LOCK" while the vehicle is being driven or towed because that will lock the steering wheel, preventing steering control. And when the engine is turned off, it takes a much greater effort than usual to steer. ● Before leaving the ve
AB:DTC P0131 O2 SENSOR CIRCUIT LOW VOLTAGE (BANK 1 SENSOR 1) 1. OUTLINE OF DIAGNOSIS Detect the open or short circuit of sensor. Judge as NG, when the element voltage is out of the specified range. 2. COMPONENT DESCRIPTION Electromotive force Air fuel ratio Lean Rich Exhaust gas ZrO2 3.
© 2010-2023 Copyright www.suoutback.com