Subaru Outback: Compass zone adjustment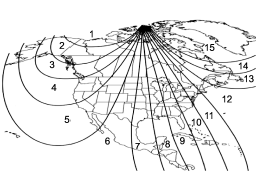 Compass calibration zones
1. Refer to the "Compass calibration zones" map shown above to verify that the compass zone setting is correct for your geographical location.
2. Press and hold the switch for 6 seconds until the zone selection comes up (a number will be displayed in the mirror compass window).
3. Press the switch repeatedly until the correct zone setting for your location is displayed.
4. Releasing the button for 10 seconds will exit the zone setting mode.
READ NEXT:
1. If a "C" is displayed in the compass window, the compass needs to be calibrated. 2. Drive the vehicle in a circle at 5 mph (8 km/h) or less until the display reads a direction. 3. You can a
1) HomeLink® button 1 2) HomeLink® button 2 3) LED 4) HomeLink® button 3 5) Sensor 6) Automatic dimming on/off button 7) Compass display button 8) Compass display The auto-dimming mirror
The mirror has a photosensor attached on both the front and back sides. During nighttime driving, these sensors detect distracting glare from vehicle headlights behind you and automatically dim
SEE MORE:
A: PROCEDURE 1. RELEASING OF FUEL PRESSURE WARNING: Place "NO OPEN FLAMES" signs near the working area. CAUTION: Be careful not to spill fuel. 1) Remove the fuse of fuel pump from main fuse box. 2) Start the engine and run it until it stalls. 3) After the engine stalls, crank it for five more seco
Main fuse box The main fuses are designed to melt during an overload to prevent damage to the wiring harness and electrical equipment. Check the main fuses if any electrical component fails to operate (except the starter motor) and other fuses are good. A melted main fuse must be replaced.
© 2010-2022 Copyright www.suoutback.com