Subaru Outback: Driving with a trailer
● You should allow for considerably more stopping distance when towing a trailer. Avoid sudden braking because it may result in skidding or jackknifing and loss of control.
● Avoid abrupt starts and sudden accelerations. If your vehicle has a manual transmission, always start out in first gear and release the clutch at moderate engine revolution.
● Avoid uneven steering, sharp turns and rapid lane changes.
● Slow down before turning. Make a longer than normal turning radius because the trailer wheels will be closer than the vehicle wheels to the inside of the turn. In a tight turn, the trailer could hit your vehicle.
● Crosswinds will adversely affect the handling of your vehicle and trailer, causing sway. Crosswinds can be due to weather conditions or the passing of large trucks or buses. If swaying occurs, firmly grip the steering wheel and slow down immediately but gradually.
● When passing other vehicles, considerable distance is required because of the added weight and length caused by attaching the trailer to your vehicle.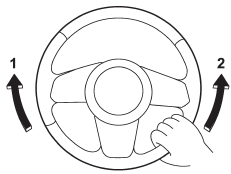 1) Left turn
2) Right turn
takes practice. When backing up with a trailer, never accelerate or steer rapidly. When turning back, grip the bottom of the steering wheel with one hand and turn it to the left for a left turn, and turn it to the right for a right turn.
● If the ABS warning light illuminates while the vehicle is in motion, stop towing the trailer and have repairs performed immediately by the nearest SUBARU dealer.
READ NEXT:
● Before going down a steep hill, slow down and shift into lower gear (if necessary, use 1st gear) in order to utilize the overheating of your vehicle's brakes. Do not make sudden downshif
Always block the wheels under both vehicle and trailer when parking. Apply the parking brake. You should not park on a hill or slope. But if parking on a hill or slope cannot be avoided, you shoul
SEE MORE:
A: LOCATION NOTE: For other related fuses, refer to the wiring diagram. <Ref. to WI-15, Power Supply Circuit.> B: INSPECTION 1. CHECK FUSE. 1) Remove the fuse and inspect visually. 2) If the fuse is blown out, replace the fuse. NOTE: If the fuse is blown again, check the system wiring harne
A: REMOVAL 1) Disconnect the ground cable from battery. 2) Remove the collector cover. (turbo model) 3) Remove the air intake boot assembly. (non-turbo model) <Ref. to IN(H4SO)-8, REMOVAL, Air Intake Boot.> 4) Remove the intercooler. (turbo model) <Ref. to IN(H4DOTC)-17, REMOVAL, Intercoo
© 2010-2023 Copyright www.suoutback.com