Subaru Outback: Foreword, Specifications
Foreword
HOW TO USE THIS MANUALS
1. STRUCTURE
Each section consists of SCT that are broken down into SC that are divided into sections for each component.
The specification, maintenance and other information for the components are included, and the diagnostic information has also been added where necessary.
2. CONTENTS
The first page has an index with tabs.
3. COMPONENT
Illustrations are provided for each component. The information necessary for repair work (tightening torque, grease up points, etc.) is described on these illustrations. Information is described using symbol.
To order parts, refer to parts catalogue.
Example: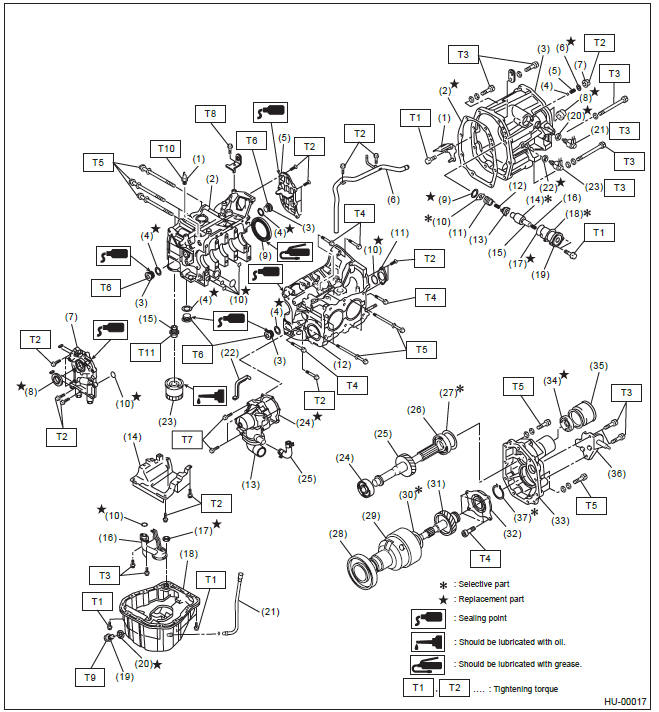 4. DEFINITION OF "NOTE", "CAUTION" AND "WARNING"
NOTE: Describes supplementary explanations for efficient operation.
CAUTION: Describes particular items to be followed and items to be prohibited to avoid vehicle or parts damage.
WARNING: Describes items to be strictly prohibited to avoid serious injury to the person doing the work or people in the area, and items to be strictly followed to avoid any deficiency or accident.
5. SPECIFICATION
If necessary, specifications are also included.
6. INSPECTION
Inspections to be carried out before and after maintenance are included.
7. MAINTENANCE
Maintenance instructions for serviceable parts describe work area and detailed step with illustration. It also describes the use of special tool, tightening torque, caution for each procedure.
If many serviceable parts are included in one service procedure, appropriate reference is provided for each parts.
Example: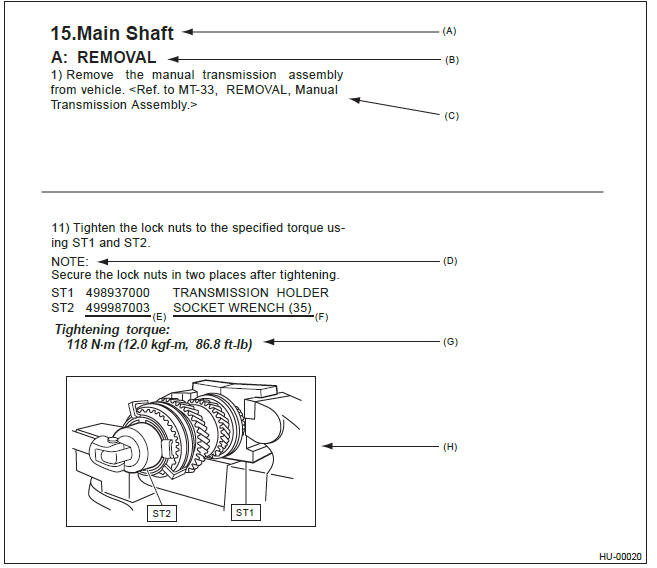 Component
Process
Reference
Cautions
Tool number of special tool
Name of special tool
Tightening torque
Illustration
8. DIAGNOSIS
Diagnosis uses step-by-step process to make operations easier.
9. SI UNITS
Measurements in these manuals are according to the SI units. Metric and yard/pound measurements are also included.
Example:
Tightening torque: 44 N*m (4.5 kgf-m, 33 ft-lb)
List of SI unit

The figure used in these manuals are described in the SI units and conventional units are described in ( ).
10.EXPLANATION OF TERMINOLOGY
List


Specifications
OUTBACK
A: DIMENSION
1. OUTBACK MODEL

*1: When crossbar is stored
B: ENGINE

C: ELECTRICAL

D: TRANSMISSION
1. MT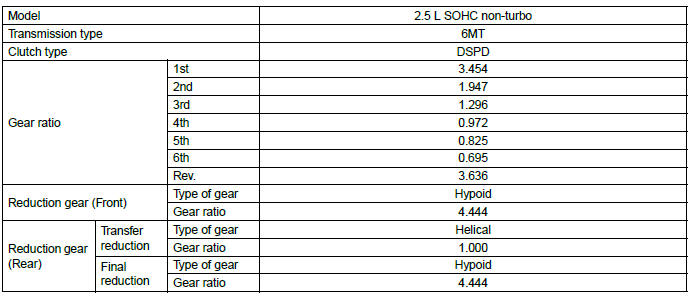 6MT: 6-forward and 1-reverse speeds with synchromesh for all gears
DSPD: Dry Single Plate Diaphragm
2. AT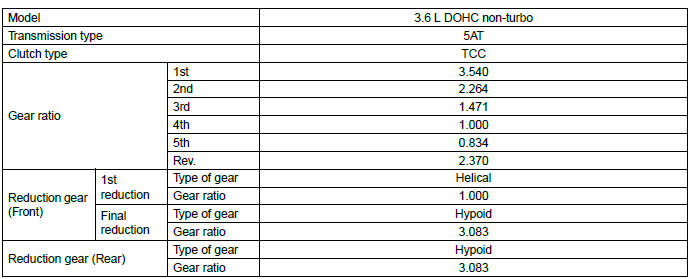 5AT: Electronically controlled fully-automatic, 5-forward speeds and 1-reverse
TCC: Torque Converter Clutch
3. CVT

TCC: Torque Converter Clutch
CVT: Forward continuously variable speed change and 1-reverse
E: STEERING

F: SUSPENSION

G: BRAKE

H: TIRE

I: CAPACITY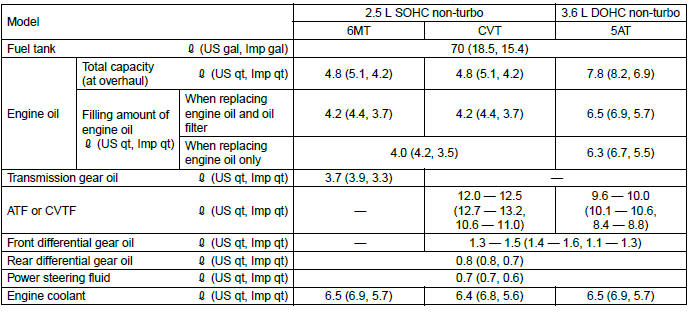 READ NEXT:
Precaution A: CAUTION Please clearly understand and adhere to the following general precautions. They must be strictly followed to avoid minor or serious injury to the person doing the work or people
A: GENERAL DESCRIPTION The purposes of the pre-delivery inspection (PDI) are as follows. Remove the additional parts used for ensuring the vehicle quality during transportation and restore the veh
General Description A: GENERAL DESCRIPTION Be sure to perform periodic maintenance in order to maintain vehicle performance and find problems before they occur. Schedule A: MAINTENANCE SCHEDULE 1 1.
SEE MORE:
Aluminum wheels can be scratched and damaged easily. Handle them carefully to maintain their appearance, performance, and safety. ● When any of the wheels is removed and replaced for tire rotation or to change a flat, always check the tightness of the wheel nuts after driving approximatel
WARNING Never let anyone's hands, arms, head or any objects protrude from the moonroof. A person could be seriously injured if the vehicle stops suddenly or turns sharply or if the vehicle is involved in an accident. To avoid serious personal injury caused by entrapment, you must conform to
© 2010-2023 Copyright www.suoutback.com