Subaru Outback: Front fog light (if equipped)
NOTE
It may be difficult to replace the bulbs. We recommend that you have the bulbs replaced by your SUBARU dealer if necessary.
1. Pull off the fender lining. Refer to "Pulling off the fender lining" F11-7.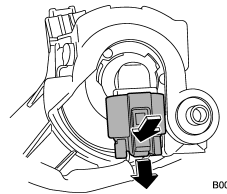 2. Disconnect the electrical connector.
1) For left-hand side
2) For right-hand side
3. Turn the socket clockwise (right-hand side) or counterclockwise (left-hand side).
4. Pull out the socket.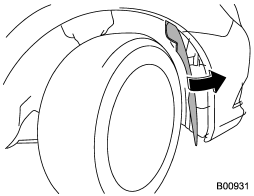 5. Pull out the bulb from the socket and replace the bulb with a new one.
6. After replacing the bulb, reattach the fender lining.
READ NEXT:
Legacy NOTE It may be difficult to replace the bulbs. We recommend that you have the bulbs replaced by your SUBARU dealer if necessary. 1. Turn the knobs of the cover 90 degrees counterclockwis
1. Apply a flat-head screwdriver to the light cover as shown in the illustration, and pry the light cover off from the rear gate trim. 1) Back-up light 2) Tail light 2. Turn the bulb socket c
SEE MORE:
A: REMOVAL 1) Remove the transmission assembly from the vehicle. <Ref. to 5AT-37, REMOVAL, Automatic Transmission Assembly.> 2) Pull out the torque converter assembly. <Ref. to 5AT-63, REMOVAL, Torque Converter Assembly.> 3) Remove the transmission harness connector from stay. 4) Rem
A: REMOVAL 1) Remove the manual transmission assembly from the vehicle. <Ref. to 6MT-25, REMOVAL, Manual Transmission Assembly.> 2) Remove the transfer case together with the extension case assembly. <Ref. to 6MT-40, REMOVAL, Transfer Case and Extension Case Assembly.> 3) Remove the tr
© 2010-2023 Copyright www.suoutback.com