Subaru Outback: Tail/Back-up light (Outback)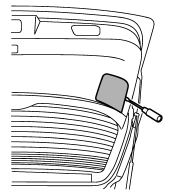 1. Apply a flat-head screwdriver to the light cover as shown in the illustration, and pry the light cover off from the rear gate trim.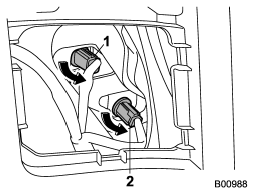 1) Back-up light
2) Tail light
2. Turn the bulb socket counterclockwise and remove it.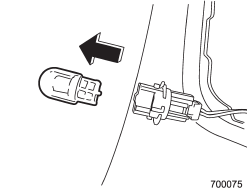 3. Pull the bulb out of the bulb socket and replace it with a new one.
4. Install the bulb socket by turning it clockwise.
5. Install the light cover on the rear gate.
READ NEXT:
1. Remove the mounting screws using a Phillips screwdriver. 2. Remove the lens. 3. Pull the bulb out of the socket. 4. Install a new bulb. 5. Reinstall the lens. 6. Tighten the mounting screw
1. Remove the lens by prying the edge of the lens with a flat-head screwdriver. 2. Turn the bulb until the flat surfaces at its ends are aligned vertically. 3. Pull the bulb straight downward to
SEE MORE:
The subfloor storage compartment is located under the floor of the trunk or cargo area and can be used to store small items. To open the lid, pull the tab or handle up. NOTE When storing a flat tire, put the subfloor storage in the trunk or cargo area. CAUTION ● Always keep the lid of
A: SPECIFICATION NOTE: Refer to "PB" section for parking brake specifications. <Ref. to PB-2, SPECIFICATION, General Description.> B: COMPONENT 1. FRONT DISC BRAKE 16-inch type 17-inch type Caliper body Air bleeder screw Guide pin (black) Pin boot Piston seal Piston Piston boot
© 2010-2022 Copyright www.suoutback.com