Subaru Outback: Tail/Back-up light (Outback)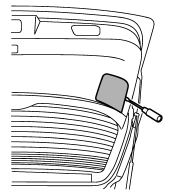 1. Apply a flat-head screwdriver to the light cover as shown in the illustration, and pry the light cover off from the rear gate trim.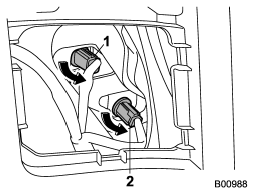 1) Back-up light
2) Tail light
2. Turn the bulb socket counterclockwise and remove it.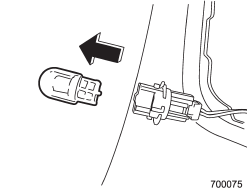 3. Pull the bulb out of the bulb socket and replace it with a new one.
4. Install the bulb socket by turning it clockwise.
5. Install the light cover on the rear gate.
READ NEXT:
1. Remove the mounting screws using a Phillips screwdriver. 2. Remove the lens. 3. Pull the bulb out of the socket. 4. Install a new bulb. 5. Reinstall the lens. 6. Tighten the mounting screw
1. Remove the lens by prying the edge of the lens with a flat-head screwdriver. 2. Turn the bulb until the flat surfaces at its ends are aligned vertically. 3. Pull the bulb straight downward to
SEE MORE:
A: SPECIFICATION B: COMPONENT 1. INTAKE MANIFOLD Intake manifold Gasket Intake manifold protector RH Intake manifold protector LH Fuel gallery RH Fuel gallery LH Fuel pipe Fuel delivery pipe Injector Seal ring Cap Clip O-ring Rubber Tightening torque: N*m (kgf-m, ft-lb) T1: 6.4 (0.
WARNING ● Avoid fire hazards. Do not drive or park the vehicle anywhere near flammable materials (e.g. grass, paper, rags or leaves), because the catalytic converter operates at very high temperatures. ● Keep everyone and flammable materials away from the exhaust pipe while the e
© 2010-2023 Copyright www.suoutback.com