Subaru Outback: Pulling off the fender lining
It is necessary to pull off the fender lining when replacing some bulbs.
1. Start the engine and turn the steering wheel fully in the opposite direction of the bulb to be replaced.
2. Stop the engine.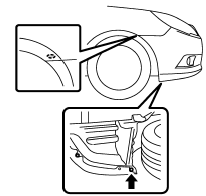 3. Remove the clip from the fender lining. Refer to "Type B clips" F11-5.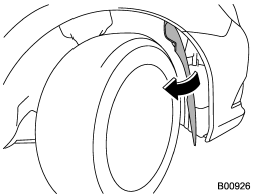 4. Pull off the fender lining.
READ NEXT:
To open the hood: 1. If the wiper blades are lifted off the windshield, return them to their original positions. 2. Pull the hood release knob under the instrument panel. 3. Release the secon
1) Power steering fluid reservoir (page 11-27) 2) Manual transmission oil level gauge (MT) (page 11-23) 3) Clutch fluid reservoir (page 11-29) 4) Brake fluid reservoir (page 11-28) 5) Fuse box (
SEE MORE:
A: INSPECTION Check for transmission gear oil leaks at oil seal area. If there is an oil leak, replace the oil seal with new one and check the propeller shaft. B: REPLACEMENT 1) Remove the collector cover. (turbo model) 2) Lift up the vehicle. 3) Remove the front under cover. <Ref. to EI-35,
A: LOCATION NOTE: For other related fuses, refer to the wiring diagram. <Ref. to WI-15, Power Supply Circuit.> B: INSPECTION 1. CHECK FUSE. 1) Remove the fuse and check visually. 2) If the fuse is blown out, replace the fuse. 2. CHECK RELAY 1) Check the resistance between relay terminals.
© 2010-2021 Copyright www.suoutback.com