Subaru Outback: Vanity mirror with light
CAUTION
Keep the vanity mirror cover closed while the car is being driven to avoid being blinded by glare.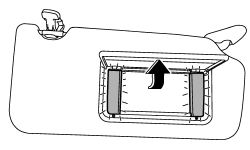 To use the vanity mirror, swing down the sun visor and open the vanity mirror cover. The lights beside the vanity mirror illuminate when the mirror cover is opened.
NOTE
Use of the vanity mirror light for a long period of time while the engine is not running can cause battery discharge.
READ NEXT:
CAUTION ● Always keep the storage compartment closed while driving to reduce the risk of injury in the event of sudden stops or an accident. ● Do not store spray cans, containers with
1) Lock 2) Unlock To open the glove box, pull the handle. To close it, push the lid firmly upward. To lock the glove box, insert the key and turn it clockwise. To unlock the glove box, insert t
SEE MORE:
CAUTION Do not turn the ignition switch to the "START" position while the engine is running. The engine is started in this position. The starter cranks the engine to start it. When the key is released (after the engine has started), the key automatically returns to the "ON" position.
The security indicator light deters potential thieves by indicating that the vehicle is equipped with an immobilizer system. It begins flashing approximately 60 seconds after the ignition switch is turned from the "ON" position to the "Acc" or "LOCK" position or immediately after
© 2010-2020 Copyright www.suoutback.com