Subaru Outback: Sun visors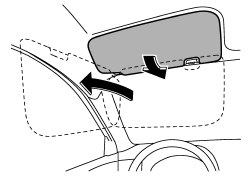 To block out glare, swing down the visors. To use the sun visor at a side window, swing it down and move it sideways.
READ NEXT:
With the sun visor positioned over the side window, you can use the sun visor extension plate to prevent glare through the gap between the sun visor and center pillar. To use the extension plate
CAUTION Keep the vanity mirror cover closed while the car is being driven to avoid being blinded by glare. To use the vanity mirror, swing down the sun visor and open the vanity mirror cover.
CAUTION ● Always keep the storage compartment closed while driving to reduce the risk of injury in the event of sudden stops or an accident. ● Do not store spray cans, containers with
SEE MORE:
A: REMOVAL 1) Disconnect the ground cable from battery and wait for at least 60 seconds before starting work. CAUTION: The airbag system is fitted with a backup power supply. After disconnecting the battery ground cable, the airbag may operate if you do not wait for 60 seconds before starting the
A: REMOVAL 1) Disconnect the ground cable from battery. 2) Remove the steering column cover. Remove the screws by turning the steering wheel to right and left. Release the claws and remove the steering column lower cover. Separate the steering column upper cover and steering upper cover,
© 2010-2023 Copyright www.suoutback.com