Subaru Outback: Sun visor extension plate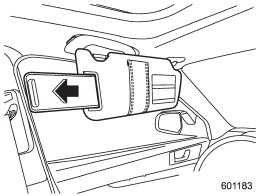 With the sun visor positioned over the side window, you can use the sun visor extension plate to prevent glare through the gap between the sun visor and center pillar. To use the extension plate, pull it toward the rear of the vehicle. When you have finished using it, stow it by pushing it toward the front of the vehicle.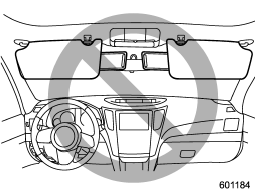 CAUTION
Do not pull out the extension plate with the sun visor positioned over the windshield. The extension plate would obstruct your view of the rearview mirror.
READ NEXT:
CAUTION Keep the vanity mirror cover closed while the car is being driven to avoid being blinded by glare. To use the vanity mirror, swing down the sun visor and open the vanity mirror cover.
CAUTION ● Always keep the storage compartment closed while driving to reduce the risk of injury in the event of sudden stops or an accident. ● Do not store spray cans, containers with
1) Lock 2) Unlock To open the glove box, pull the handle. To close it, push the lid firmly upward. To lock the glove box, insert the key and turn it clockwise. To unlock the glove box, insert t
SEE MORE:
WARNING ● Child restraint systems and seatbelts can become hot in a vehicle that has been closed up in sunny weather; they could burn a small child. Check the child restraint system before you place a child in it. ● Do not leave an unsecured child restraint system in your vehicle.
1. Remove the glove box. (1) Open the glove box. (2) Remove the damper shaft from the glove box. (3) Pull out the glove box. 2. Remove the cover of the air filter. 3. Remove the air filter. 4. Replace the air filter element with a new one. 5. Reinstall the cover of the air filter.
© 2010-2020 Copyright www.suoutback.com