Subaru Outback: Windshield wiper blade rubber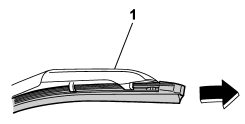 1) Support
1. Grasp the locked end of the blade rubber assembly and pull it firmly until the stoppers on the rubber are free of the support.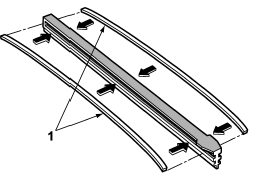 1) Metal spines
2. If the new blade rubber is not provided with two metal spines, remove the metal spines from the old blade rubber and install them in the new blade rubber.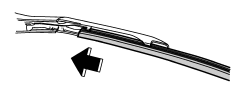 3. Align the claws of the support with the grooves in the rubber and slide the blade rubber assembly into the support until it locks.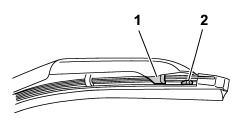 1) Claw
2) Stopper
4. Be sure to position the claws at the end of the support between the stoppers on the rubber as shown. If the rubber is not retained properly, the wiper blade may scratch the windshield.
READ NEXT:
1. Raise the wiper arm off the rear window. 2. Turn the wiper blade assembly counterclockwise. 3. Pull the wiper blade assembly toward you to remove it from the wiper arm.
1. Pull out the end of the blade rubber assembly to unlock it from the plastic support. 2. Pull the blade rubber assembly out of the plastic support. 1) Metal spines 3. If the new blade rub
WARNING ● Before beginning work on or near any battery, be sure to extinguish all cigarettes, matches, and lighters. Never expose a battery to an open flame or electric sparks. Batteries gi
SEE MORE:
1) Solar sensor 2) Interior air temperature sensor The automatic climate control system employs several sensors. These sensors are delicate. If they are treated incorrectly and become damaged, the system may not be able to control the interior temperature correctly. To avoid damaging the sen
A: LIST Diagnostic Procedure with Diagnostic Trouble Code (DTC) A: DTC C0021 FRONT RIGHT ABS SENSOR CIRCUIT OPEN OR SHORT NOTE: For the diagnostic procedure, refer to "DTC C0027 REAR LEFT ABS SENSOR CIRCUIT OPEN OR SHORT". <Ref. to VDC(diag)-40, DTC C0027 REAR LEFT ABS SENSOR CIRCUIT OPEN OR
© 2010-2023 Copyright www.suoutback.com