Subaru Outback: Basic Diagnostic Procedure
A: PROCEDURE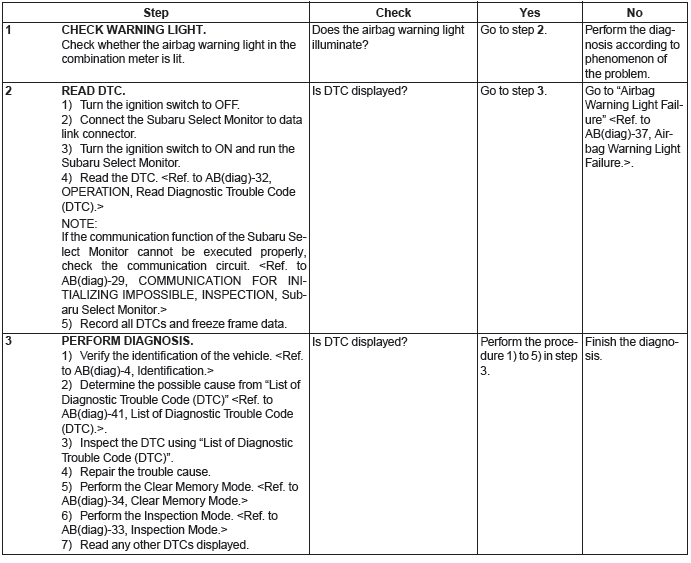 Check List for Interview
A: CHECK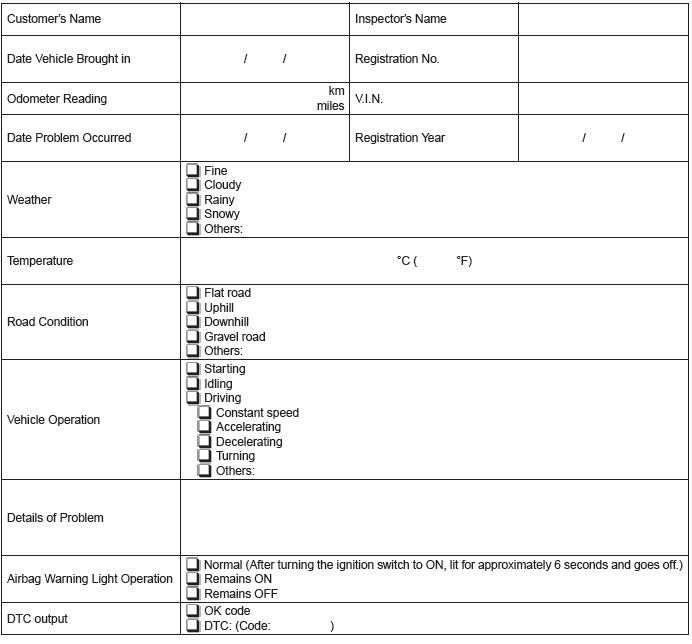 Identification
A: PROCEDURE
Identify the vehicle using the chassis number, part number of the airbag control module or Subaru Select Monitor.
NOTE: Proper identification is necessary to ensure proper diagnosis. Components are not interchangeable between Airbag system Type A and Airbag System Type B.
1. IDENTIFICATION METHOD USING CHASSIS NUMBER

2. IDENTIFICATION METHOD USING PART NUMBER OF AIRBAG CONTROL MODULE

3. IDENTIFICATION METHOD USING SUBARU SELECT MONITOR
1) Connect the Subaru Select Monitor, and display the main menu screen.
2) On the main menu screen, select "Each System Check".
3) Check and identify the description of the airbag system displayed on the system selection menu.

General Description
A: CAUTION
Refer to "CAUTION" in "General Description" in Airbag System. <Ref. to AB-9, CAUTION, General Description.>
B: INSPECTION
Measure the battery voltage and check electrolyte.
Standard voltage: 12 V
Specific gravity: 1.260 or more
C: PREPARATION TOOL
CAUTION: To measure the voltage and resistance of airbag system component, be sure to use the specified test harness.
1. SPECIAL TOOL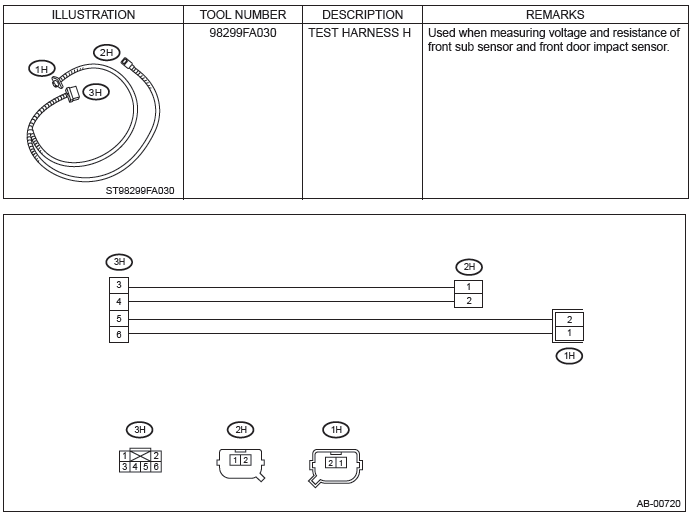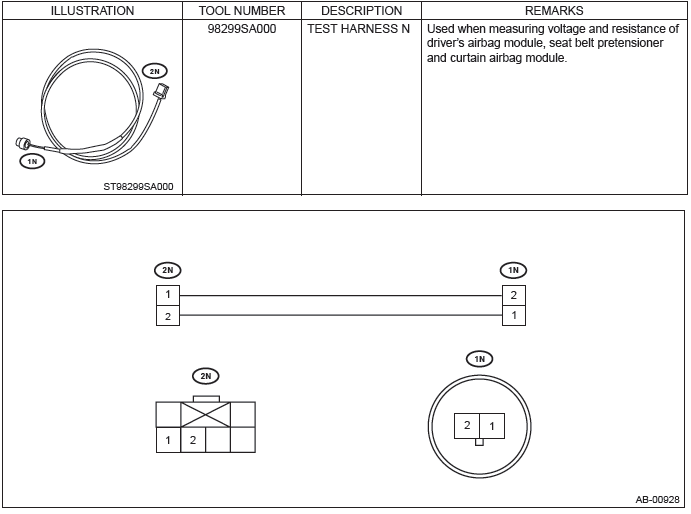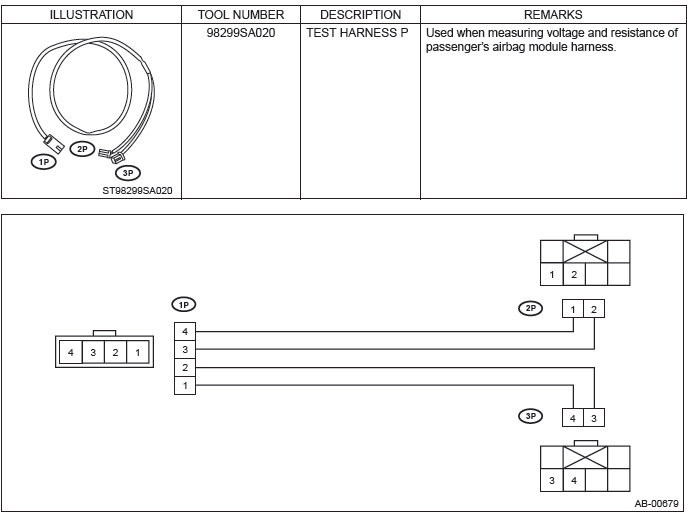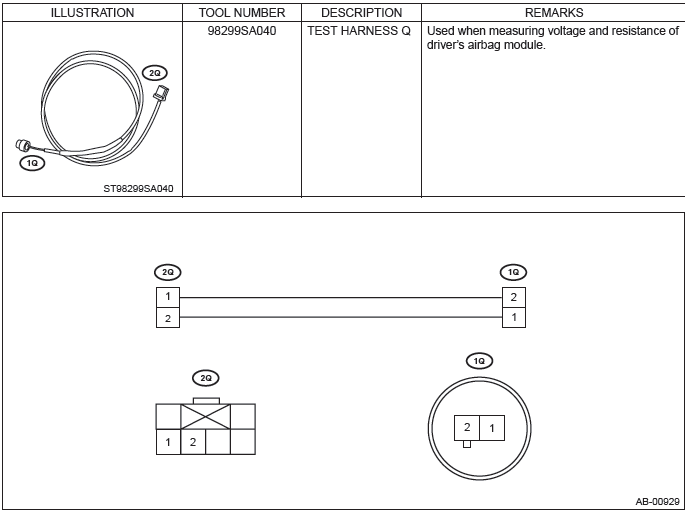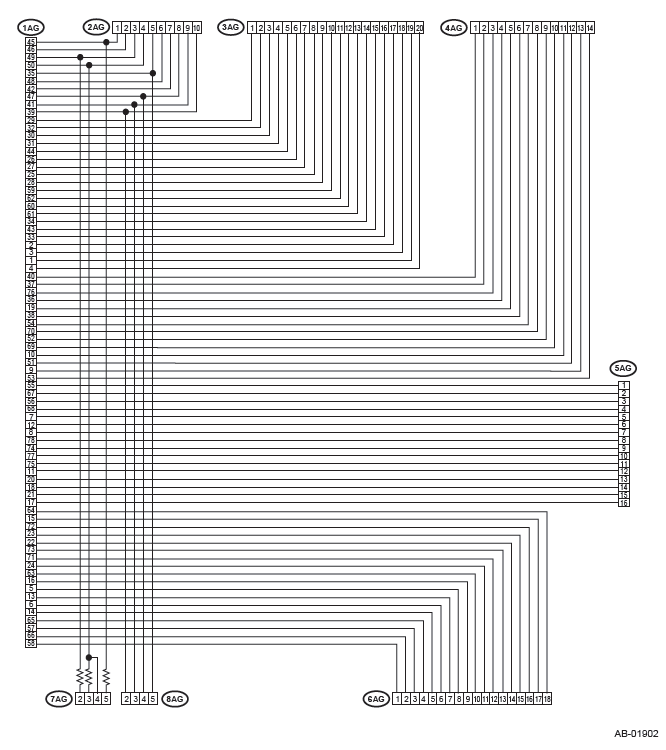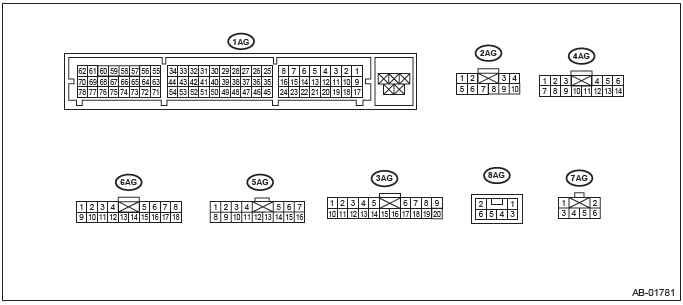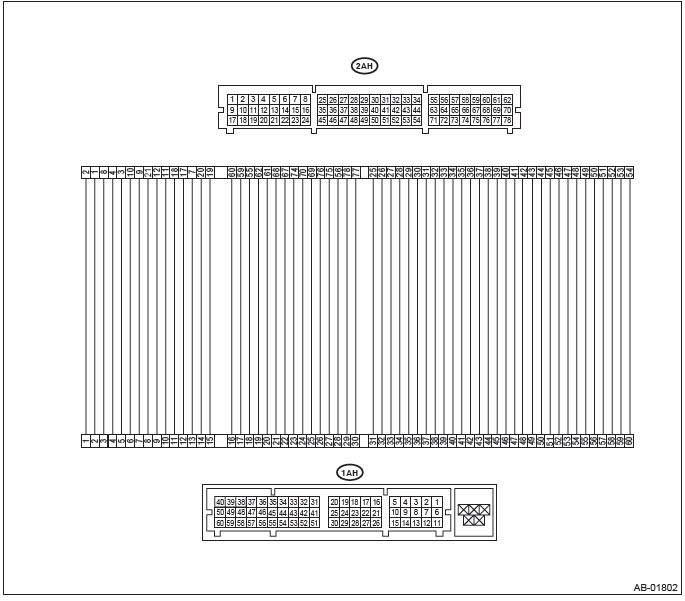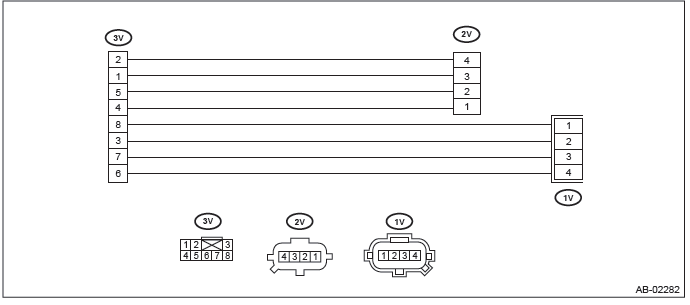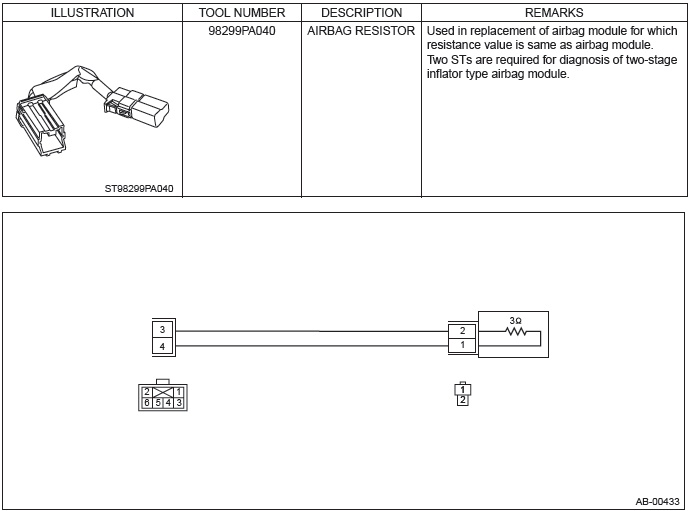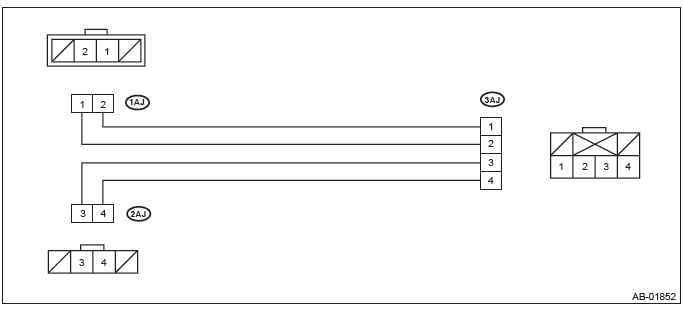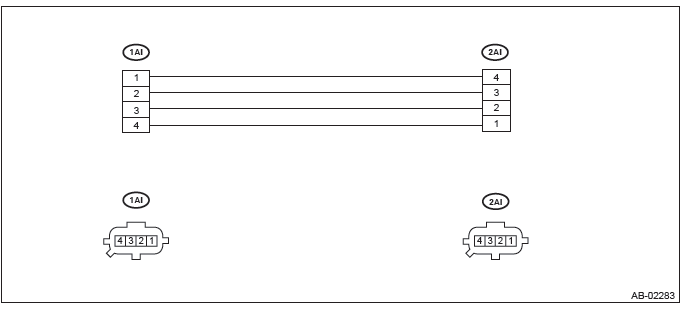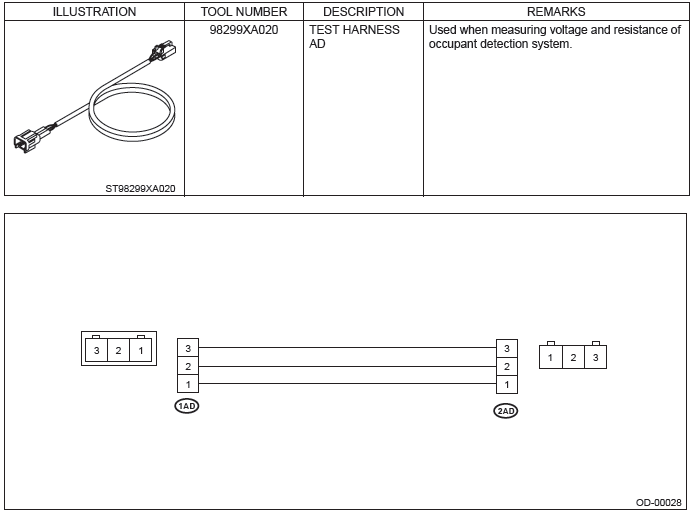 2. GENERAL TOOL

Electrical Component Location
A: LOCATION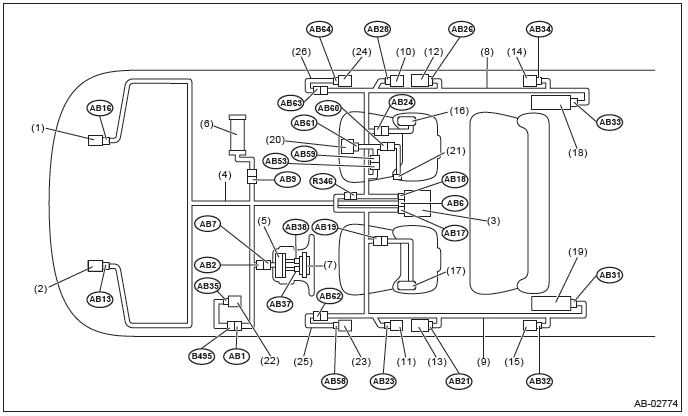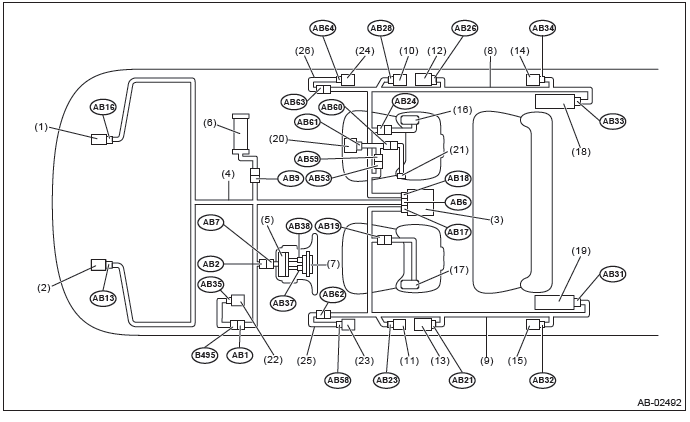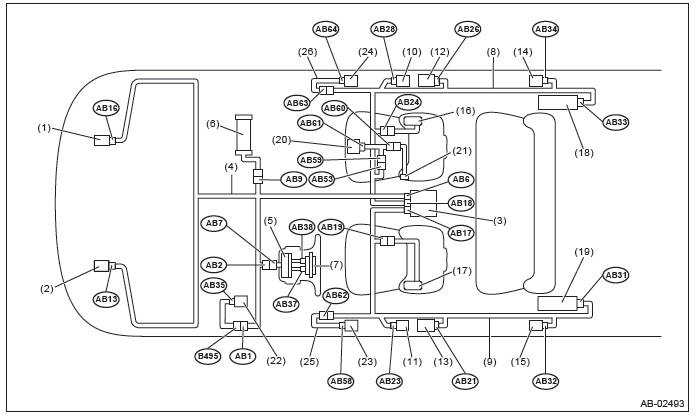 Front sub sensor (RH)
Front sub sensor (LH)
Airbag control module
Airbag main harness
Roll connector
Passenger's airbag inflator
Driver's airbag inflator
Airbag rear harness (RH)
Airbag rear harness (LH)
Side airbag sensor (RH)
Side airbag sensor (LH)
Seat belt pretensioner (RH)
Seat belt pretensioner (LH)
Curtain airbag sensor (RH)
Curtain airbag sensor (LH)
Side airbag inflator (RH)
Side airbag inflator (LH)
Curtain airbag inflator (RH)
Curtain airbag inflator (LH)
Occupant detection control module
Buckle switch (RH)
Fuse box
Front door impact sensor (LH)
Front door impact sensor (RH)
Door harness (LH)
Door harness (RH)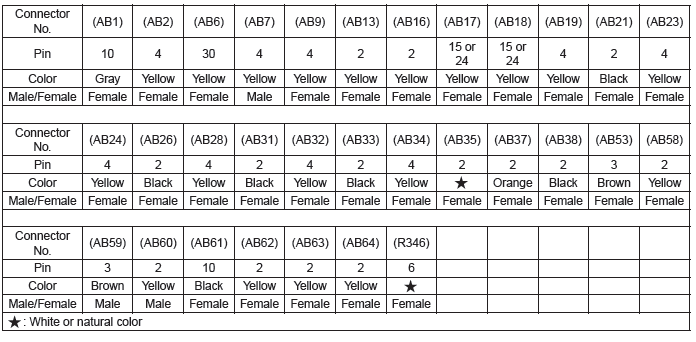 READ NEXT:
A: PROCEDURE For operation procedures, refer to "Airbag Connector" of Airbag System. <Ref. to AB-18, Airbag Connector.> Airbag Control Module I/O Signal A: ELECTRICAL SPECIFICATION Type A
A: DTC 11 DRIVER'S AIRBAG FAILURE NOTE: Be sure to properly identify the Airbag system type prior to performing any diagnostics. 1. TYPE A DTC DETECTING CONDITION: Airbag main harness circuit is op
SEE MORE:
1. Make sure the booster battery is 12 volts and the negative terminal is grounded. 2. If the booster battery is in another vehicle, do not let the two vehicles touch. 3. Turn off all unnecessary lights and accessories. 4. Connect the jumper cables exactly in the sequence illustrated. 1) Con
AV:DTC 71 DRIVER'S AIRBAG FAILURE NOTE: Be sure to properly identify the Airbag system type prior to performing any diagnostics. 1. TYPE A DTC DETECTING CONDITION: Airbag main harness circuit is open, shorted or shorted to ground. Airbag module harness (Driver's side) circuit is open, shorted or
© 2010-2023 Copyright www.suoutback.com