Subaru Outback: Cargo area light (Outback)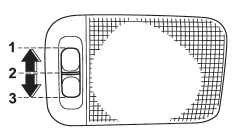 1) DOOR
2) OFF
3) ON
The cargo area light switch has three positions.
DOOR: The light illuminates only when the rear gate is opened.
OFF: The light remains off.
ON: The light remains on continuously.
The automatically illuminated cargo area light remains on for several seconds and then gradually turns off after the rear gate is closed. While the light is on, if any of the following operations are performed, the cargo area light turns off immediately.
● The ignition switch is turned from the "LOCK" position to the "Acc" or "ON" position.
● The rear gate is locked using the remote keyless entry transmitter.
The setting of the period for which the lights remain on (OFF delay timer) can be changed by a SUBARU dealer. Contact your SUBARU dealer for details.
READ NEXT:
To block out glare, swing down the visors. To use the sun visor at a side window, swing it down and move it sideways.
With the sun visor positioned over the side window, you can use the sun visor extension plate to prevent glare through the gap between the sun visor and center pillar. To use the extension plate
CAUTION Keep the vanity mirror cover closed while the car is being driven to avoid being blinded by glare. To use the vanity mirror, swing down the sun visor and open the vanity mirror cover.
SEE MORE:
Tire Identification Number (TIN) is marked on the intended outboard sidewall. The TIN is composed of four groups. Here is a brief review of the TIN with a breakdown of its individual elements. (1) Manufacturer's Identification Mark (2) Tire Size (3) Tire Type Code (4) Date of Manufacture
WARNING When you are tired or sleepy, your reaction will be delayed and your perception, judgment and attentiveness will be impaired. If you drive when tired or sleepy, your, your passengers' and other persons' chances of being involved in a serious accident may increase. Please do not c
© 2010-2023 Copyright www.suoutback.com