Subaru Outback: Fan speed control dial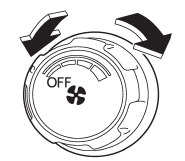 The fan operates only when the ignition switch is turned to the "ON" position. The fan speed control dial is used to select four fan speeds.
READ NEXT:
This dial regulates the temperature of airflow from the air outlets over a range from the blue side (cool) to red side (warm).
Each airflow control button activates the following air outlets. : Instrument panel outlets : Instrument panel outlets and foot outlets : Foot outlets, both side outlets of the instrument p
The air conditioner operates only when the engine is running. Press the air conditioner button while the fan is in operation to turn on the air conditioner. The indicator light will illuminate.
SEE MORE:
1. Pull off the fender lining. For details, refer to "Pulling off the fender lining" F11- 7. 2. Remove the bulb cover, by turning it counterclockwise. 3. Disconnect the electrical connector. 4. Remove the retainer spring. 5. Replace the bulb, then set the retainer spring securely.
Always wash and dry the vehicle before waxing and polishing. Use a good quality polish and wax and apply them according to the manufacturer's instructions. Wax or polish when the painted surface is cool. Be sure to polish and wax the chrome trim, as well as the painted surfaces. Loss of wax
© 2010-2022 Copyright www.suoutback.com