Subaru Outback: Temperature control dial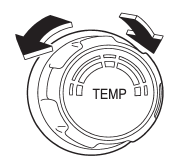 This dial regulates the temperature of airflow from the air outlets over a range from the blue side (cool) to red side (warm).
READ NEXT:
Each airflow control button activates the following air outlets. : Instrument panel outlets : Instrument panel outlets and foot outlets : Foot outlets, both side outlets of the instrument p
The air conditioner operates only when the engine is running. Press the air conditioner button while the fan is in operation to turn on the air conditioner. The indicator light will illuminate.
ON position (recirculation): Interior air is recirculated inside the vehicle. Press the air inlet button to the ON position. The indicator light will illuminate. Place this button in the ON posit
SEE MORE:
A: REMOVAL 1. SEAT HEATER UNIT 1) Remove the front seats. <Ref. to SE-10, REMOVAL, Front Seat.> 2) Remove the backrest cover of front seat and seat cushion cover. <Ref. to SE-12, DISASSEMBLY, Front Seat.> 3) Remove the seat heater unit. 2. SEAT HEATER SWITCH 1) Disconnect the ground
WARNING ● Never adjust the seat while driving to avoid the possibility of loss of vehicle control and of personal injury. ● Before adjusting the seat, make sure the hands and feet of rear seat passengers or cargo are clear of the adjusting mechanism. ● After adjusting the se
© 2010-2023 Copyright www.suoutback.com