Subaru Outback: General Description
A: COMPONENT
1. FIXED GLASS (SEDAN MODEL)
Windshield glass
Dam rubber
Molding
Seal upper side
Locating pin
Rearview mirror mount
Rear window glass
Seal A
2. FIXED GLASS (OUTBACK MODEL)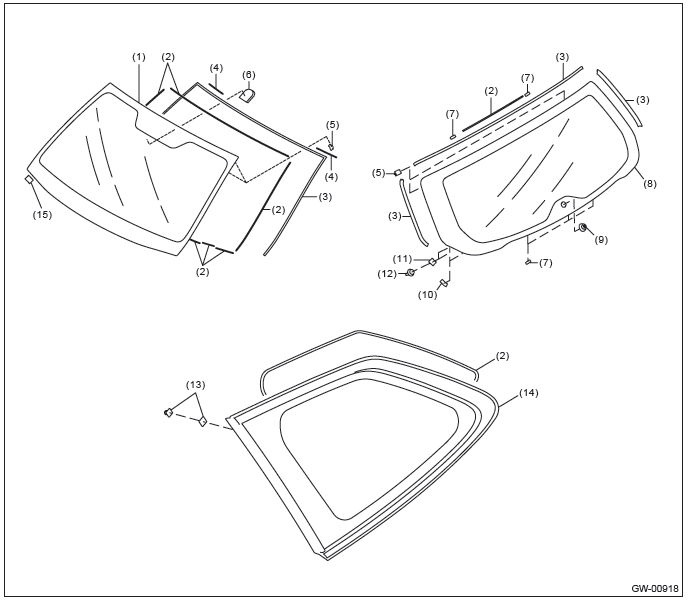 Windshield glass
Dam rubber
Molding
Seal upper side
Locating pin
Rearview mirror mount
Spacer
Rear gate glass
Pivot
EPT sealer
Holder
Clip
Fastener
Rear quarter glass
Seal A
3. FRONT DOOR GLASS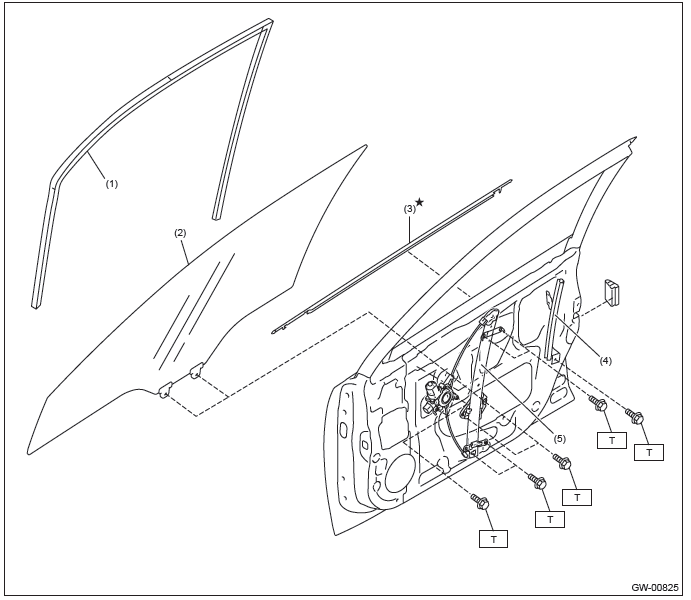 Glass run rubber
Front door glass
Weather strip outer
Door sash
Regulator and motor ASSY
Tightening torque: N*m (kgf-m, ft-lb)
T: 7.5 (0.76, 5.5)
4. REAR DOOR GLASS
Glass run rubber
Rear door glass (Sedan model)
Weather strip outer
Door sash
Regulator and motor ASSY
Partition glass (Sedan model)
Partition molding (Sedan model)
Partition glass (OUTBACK model)
Partition molding (OUTBACK model)
Rear door glass (OUTBACK model)
Tightening torque: N*m (kgf-m, ft-lb)
T1: 2.2 (0.22, 1.6)
T2: 7.5 (0.76, 5.5)
5. MIRROR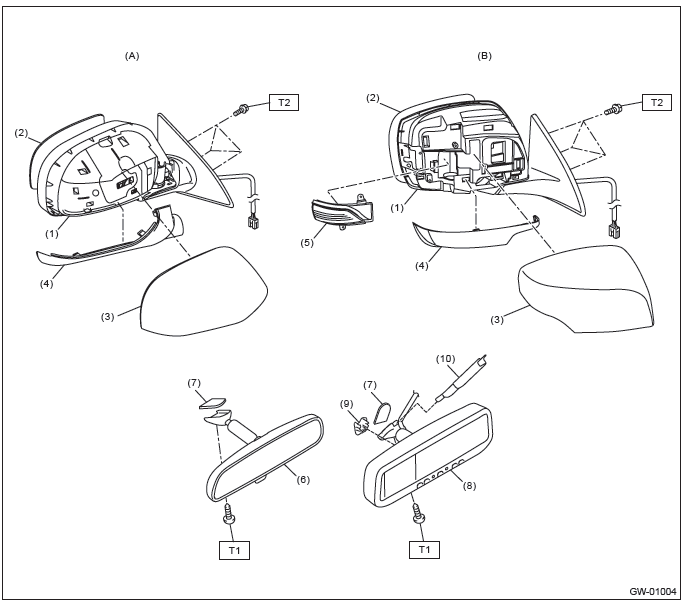 Model without electric retractable mirror (except for C6 model)
Model with electric retractable mirror (C6 model)
Outer mirror
Mirror
Scalp cap
Outer mirror lower cover
Side turn signal light
Rear view mirror
Mount
Rearview mirror (RCD model)
Connector cover
Harness cover
Tightening torque: N*m (kgf-m, ft-lb)
T1: 1.9 (0.19, 1.4)
T2: 4.5 (0.46, 3.3)
B: CAUTION
Before disassembling or reassembling parts, always disconnect the battery ground cable from battery.

When replacing the audio, control module and other parts provided with memory functions, record the memory contents before disconnecting the battery ground cable. Otherwise, the memory is cleared.

Avoid impact and damage to the glass.
Reassemble the parts in the reverse order of disassembly procedure unless otherwise indicated.
Connect the connectors securely during reassembly.
After reassembly, make sure that the functional parts operate normally.
C: PREPARATION TOOL
1. SPECIAL TOOL

2. GENERAL TOOL

READ NEXT:
A: LOCATION NOTE: For other related fuses, refer to the wiring diagram. <Ref. to WI-15, Power Supply Circuit.> B: INSPECTION 1. CHECK FUSE. 1) Remove the fuse and check visually. 2) If the f
A: REMOVAL 1) Remove the front door trim. <Ref. to EI-60, FRONT DOOR, REMOVAL, Door Trim.> 2) Remove the sealing cover. CAUTION: Carefully remove the butyl tape. Excessive force will easily
A: REPLACEMENT 1. MODEL WITHOUT ELECTRIC RETRACTABLE MIRROR CAUTION: When removing the mirror, be careful not to damage the back surface of mirror with a flat tip screwdriver. When installing the
SEE MORE:
Use only compact discs (CDs, CD-Rs and CD-RWs) that have the mark shown in the following illustration. Also, some compact discs cannot be played. ● You cannot use a DualDisc in the CD player. If you insert a DualDisc into the player, the disc may not come out again, possibly causing t
A: PROCEDURE For operation procedures, refer to "Airbag Connector" of Airbag System. <Ref. to AB-18, Airbag Connector.> Airbag Control Module I/O Signal A: ELECTRICAL SPECIFICATION Type A Terminal numbers in airbag control module connector are shown in the figure. The airbag warning
© 2010-2023 Copyright www.suoutback.com