Subaru Outback: General Description
A: COMPONENT
1. DOOR LOCK ASSEMBLY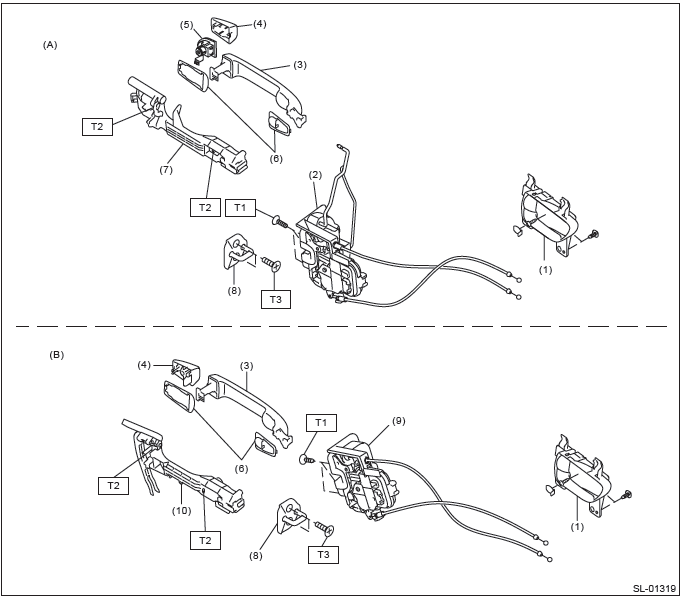 Front
Rear
Inner remote ASSY
Front door latch and door lock actuator ASSY
Door outer handle
Door outer handle cover
Key cylinder (driver's side only)
Door outer handle spacer
Front door outer handle frame ASSY
Striker
Rear door latch and door lock actuator ASSY
Rear door outer handle frame ASSY
Tightening torque: N*m (kgf-m, ft-lb)
T1: 6.5 (0.66, 4.8)
T2: 7.5 (0.76, 5.5)
T3: 18 (1.84, 13.3)
2. REAR GATE LOCK AND TRUNK LID LOCK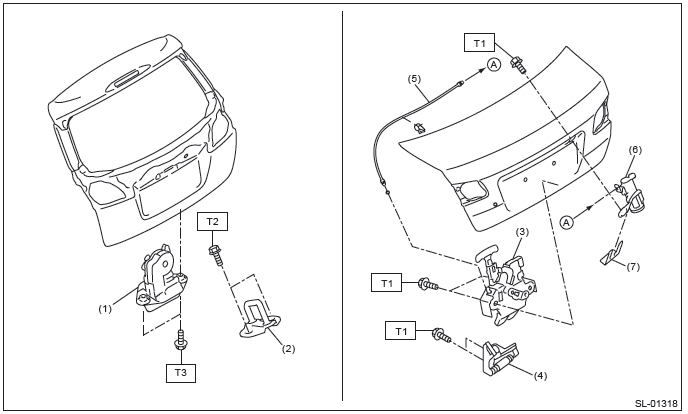 Rear gate latch and actuator ASSY
Rear gate striker
Trunk lid latch and actuator ASSY
Trunk lid striker
Cable
Key cylinder (trunk lid only)
Clip
Tightening torque: N*m (kgf-m, ft-lb)
T1: 7.5 (0.76, 5.5)
T2: 25 (2.55, 18.4)
T3: 28 (2.86, 20.7)
3. FRONT HOOD LOCK AND REMOTE OPENERS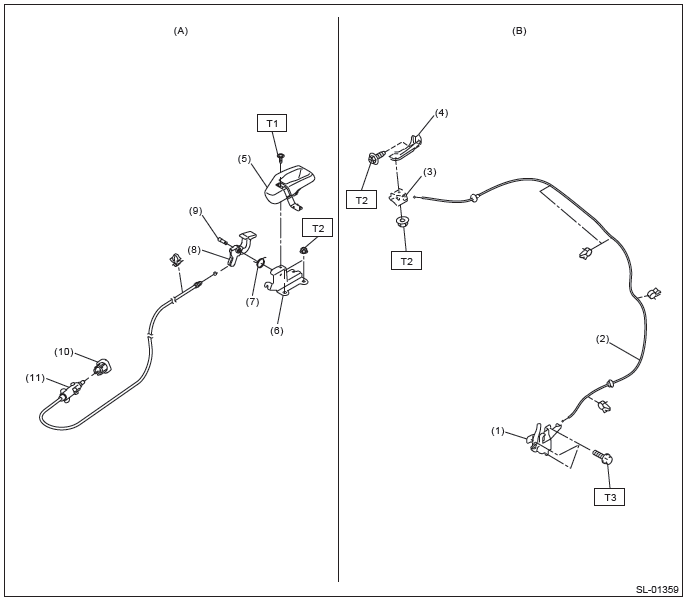 Fuel lock release
Hood lock release
Front hood lock ASSY
Cable
Lever ASSY
Bracket
Cover
Bracket
Spring
Pull handle ASSY
Pin
Holder
Fuel lock
Tightening torque: N*m (kgf-m, ft-lb)
T1: 4.5 (0.46, 3.3)
T2: 7.5 (0.76, 5.5)
T3: 33 (3.36, 24.3)
4. KEYLESS ENTRY SYSTEM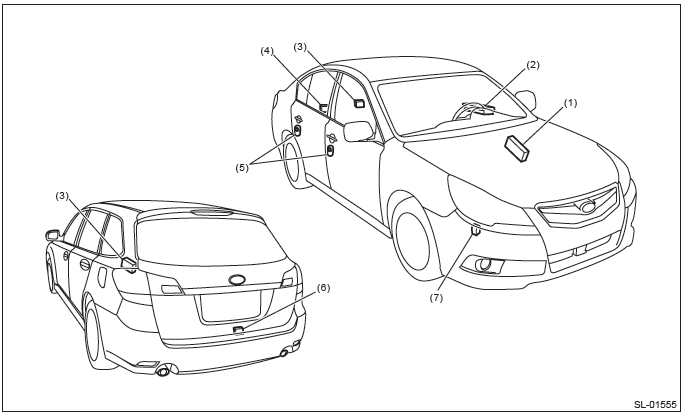 Body integrated unit
Power window main switch
Keyless entry control module
Trunk lid latch switch (sedan model)
Door switch
Rear gate latch switch (OUTBACK model)
Keyless buzzer
5. SECURITY SYSTEM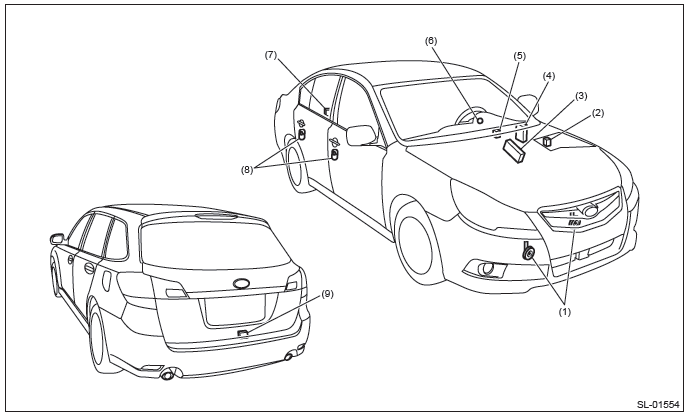 Horn
Horn relay (in main fuse box)
Body integrated unit
Impact sensor (driver's seat instrument panel side) (dealer option)
Turn signal and hazard module
Security indicator light (in combination meter)
Trunk lid latch switch (sedan model)
Door switch
Rear gate latch switch (OUTBACK model)
B: CAUTION
Before disassembling or reassembling parts, always disconnect the battery ground cable from battery.

When replacing the audio, control module and other parts provided with memory functions, record the memory contents before disconnecting the battery ground cable. Otherwise, the memory is cleared.

Reassemble the parts in the reverse order of disassembly procedure unless otherwise indicated.
Connect the connectors securely during reassembly.
After reassembly, make sure that the functional parts operate normally.
If any immobilizer related part has been replaced, make sure to register the immobilizer.
Do not use any electrical test equipment on the airbag system wiring harnesses and connector circuits.
Be careful not to damage the airbag system wiring harness when servicing the ignition key cylinder.
C: PREPARATION TOOL
1. SPECIAL TOOL

2. GENERAL TOOL

READ NEXT:
A: LOCATION NOTE: For other related fuses, refer to the wiring diagram. <Ref. to WI-15, Power Supply Circuit.> B: INSPECTION 1. CHECK FUSE. 1) Remove the fuse and inspect visually. 2) If the
A: WIRING DIAGRAM Refer to "Keyless Entry System" in the wiring diagram. <Ref. to WI-181, WIRING DIAGRAM, Keyless Entry System.> B: ELECTRICAL SPECIFICATION 1. KEYLESS ENTRY CONTROL MODULE Mo
A: REMOVAL 1) Remove the door trim. <Ref. to EI-60, REMOVAL, Door Trim.> 2) Remove the screws to detach the front inner remote handle. B: INSTALLATION 1) Before installation, check the followi
SEE MORE:
The audio set will operate only when the ignition switch is in the "Acc" or "ON" position. ● Power and sound controls: refer to page 5-6 ● Radio operation: refer to page 5-9 ● Satellite radio operation (if equipped): refer to page 5-13 ● CD (compact disc) play
Each passenger's seatbelt has an Automatic/ Emergency Locking Retractor (A/ ELR). The Automatic/Emergency Locking Retractor normally functions as an Emergency Locking Retractor (ELR). The A/ ELR has an additional locking mode, "Automatic Locking Retractor (ALR) mode", intended to secure
© 2010-2023 Copyright www.suoutback.com