Subaru Outback: Gross Axle Weight (GAW) and Gross Axle Weight Rating (GAWR)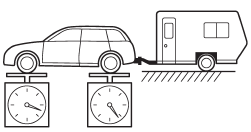 Gross Axle Weight
The total weight applied to each axle (GAW) must never exceed the Gross Axle Weight Rating (GAWR). The front and rear GAWs can be adjusted by relocating passengers and luggage inside the vehicle. The front and rear GAWR are also shown on the certification label.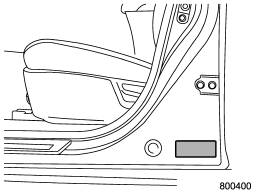 Certification label
To check both GVWR and GAWR and to confirm that the total weight and weight distribution are within safe driving limits, you should have your vehicle and trailer weighed at a commercial weighing station. Be sure that all cargo is firmly secured to prevent a change in weight distribution while driving.
READ NEXT:
Tongue load WARNING If the trailer is loaded with more weight in the back of trailer's axle than in the front, the load is taken off the rear axle of the towing vehicle. This may cause the r
WARNING Never drill the frame or under-body of your vehicle to install a commercial trailer hitch. If you do, dangerous exhaust gas, water or mud may enter the passenger compartment through the d
The use of a genuine SUBARU trailer hitch is recommended. A genuine SUBARU hitch is available from your SUBARU dealer. If use of a non-genuine hitch is unavoidable, be sure the hitch is suited to
SEE MORE:
A: REMOVAL 1) Lift up the vehicle, and then remove the rear wheels. 2) Remove the trailing link. Remove the bracket, and remove the parking brake cable from the guide (a). Remove the bolts and nuts, and then remove the trailing link. 3) Remove the front lateral link. Remove the snap pin (a
A: REMOVAL 1) Remove the transmission assembly from the vehicle. <Ref. to 5AT-37, REMOVAL, Automatic Transmission Assembly.> 2) Disconnect the rear vehicle speed sensor connector. NOTE: Secure the transmission harness to the transmission body using wire etc. 3) Remove the extension case.
© 2010-2023 Copyright www.suoutback.com