Subaru Outback: Gross Axle Weight (GAW) and Gross Axle Weight Rating (GAWR)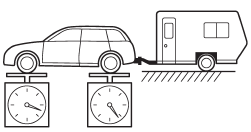 Gross Axle Weight
The total weight applied to each axle (GAW) must never exceed the Gross Axle Weight Rating (GAWR). The front and rear GAWs can be adjusted by relocating passengers and luggage inside the vehicle. The front and rear GAWR are also shown on the certification label.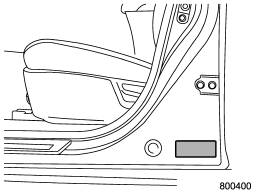 Certification label
To check both GVWR and GAWR and to confirm that the total weight and weight distribution are within safe driving limits, you should have your vehicle and trailer weighed at a commercial weighing station. Be sure that all cargo is firmly secured to prevent a change in weight distribution while driving.
READ NEXT:
Tongue load WARNING If the trailer is loaded with more weight in the back of trailer's axle than in the front, the load is taken off the rear axle of the towing vehicle. This may cause the r
WARNING Never drill the frame or under-body of your vehicle to install a commercial trailer hitch. If you do, dangerous exhaust gas, water or mud may enter the passenger compartment through the d
The use of a genuine SUBARU trailer hitch is recommended. A genuine SUBARU hitch is available from your SUBARU dealer. If use of a non-genuine hitch is unavoidable, be sure the hitch is suited to
SEE MORE:
Each brief press of the "TUNE/TRACK/ CH" dial changes the control modes in the following sequence. Choose the desired level for each mode by turning the "TUNE/TRACK/CH" dial. The control function returns to the tune/ track/channel control mode after approximately 5 seconds.
Your vehicle employs an electric cooling fan which is thermostatically controlled to operate when the engine coolant reaches a specific temperature. If the radiator cooling fan does not operate even when the coolant temperature high warning light illuminates, the cooling fan circuit may be defe
© 2010-2022 Copyright www.suoutback.com