Subaru Outback: High beam light bulbs
1. Remove the air intake duct (right-hand side). For the method to remove the air intake duct, refer to "Removing air intake duct" F11-7.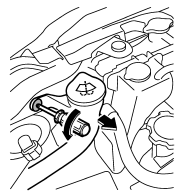 Left-hand side
2. Use a screwdriver to remove the secured clip of the washer tank. To make it easy to access the bulb, move the washer tank to the horizontal direction (left-hand side).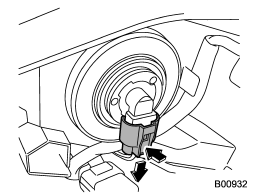 3. Disconnect the electrical connector from the bulb.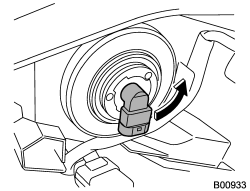 4. Remove the bulb from the headlight assembly by turning it counterclockwise.
5. Replace the bulb with new one. At this time, use care not to touch the bulb surface.
6. Reconnect the electrical connector.
7. To install the bulb to the headlight assembly, turn it clockwise until it clicks.
8. Install the air intake duct with clips (right-hand side).
9. Set the washer tank to the original place and secure it by clip (left-hand side).
READ NEXT:
NOTE It may be difficult to replace the bulbs. We recommend that you have the bulbs replaced by your SUBARU dealer if necessary. 1. Turn over the protective cover of the engine compartment. 2
1. Turn the socket counterclockwise and pull it out. 2. Pull out the bulb from the socket and replace the bulb with a new one.
NOTE It may be difficult to replace the bulbs. We recommend that you have the bulbs replaced by your SUBARU dealer if necessary. 1. Pull off the fender lining. Refer to "Pulling off the fender l
SEE MORE:
Select airflow by pressing the air inlet selection button "". ON position (recirculation): Interior air is recirculated inside the vehicle. Press the air inlet selection button to the ON position for fast cooling with the air conditioner or when driving on a dusty road. The indicator ligh
A: ELECTRICAL SPECIFICATION Input/output name: Crankshaft position sensor Camshaft position sensor Measuring condition: After warming-up At idling Engine Condition Data A: ELECTRICAL SPECIFICATION Measuring condition: After engine is warmed up. Set the select lever in "P" range
© 2010-2023 Copyright www.suoutback.com