Subaru Outback: Low beam light bulbs
1. Pull off the fender lining. For details, refer to "Pulling off the fender lining" F11- 7.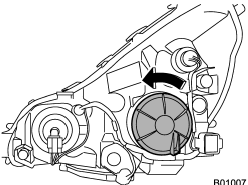 2. Remove the bulb cover, by turning it counterclockwise.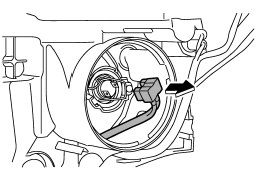 3. Disconnect the electrical connector.
4. Remove the retainer spring.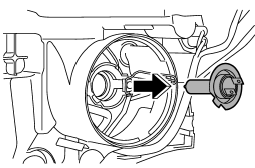 5. Replace the bulb, then set the retainer spring securely.
6. Reconnect the electrical connector.
7. Install the bulb cover.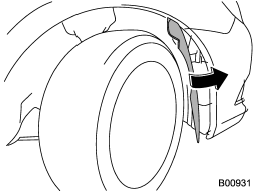 8. After replacing the bulb, reattach the fender lining.
READ NEXT:
1. Remove the air intake duct (right-hand side). For the method to remove the air intake duct, refer to "Removing air intake duct" F11-7. Left-hand side 2. Use a screwdriver to remove the se
NOTE It may be difficult to replace the bulbs. We recommend that you have the bulbs replaced by your SUBARU dealer if necessary. 1. Turn over the protective cover of the engine compartment. 2
1. Turn the socket counterclockwise and pull it out. 2. Pull out the bulb from the socket and replace the bulb with a new one.
SEE MORE:
A: PROCEDURE 1. RELEASING OF FUEL PRESSURE WARNING: Place "NO OPEN FLAMES" signs near the working area. CAUTION: Be careful not to spill fuel. 1) Remove the fuse of fuel pump from main fuse box. 2) Start the engine and run it until it stalls. 3) After the engine stalls, crank it for five more seco
Each passenger's seatbelt has an Automatic/ Emergency Locking Retractor (A/ ELR). The Automatic/Emergency Locking Retractor normally functions as an Emergency Locking Retractor (ELR). The A/ ELR has an additional locking mode, "Automatic Locking Retractor (ALR) mode", intended to secure
© 2010-2023 Copyright www.suoutback.com