Subaru Outback: Shift lock release using the shift lock release button
Perform the following procedure to release the shift lock.
1. Apply the parking brake and stop the engine.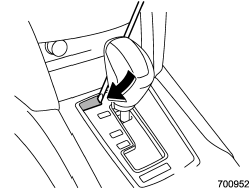 2. Remove the shift lock cover using a flat-head screwdriver.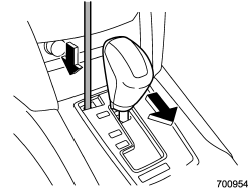 3. While depressing the brake pedal, insert the electronic parking brake release tool into the hole, press the shift lock release button using the tool, and then move the select lever.
NOTE
To prevent damage to the shift lock cover, cover the tip of the flat-head screwdriver with vinyl tape or a cloth before removing the cover.
If the select lever does not move after performing the above procedure, the shift lock system may be malfunctioning. Contact a SUBARU dealer for an inspection as soon as possible.
READ NEXT:
With the vehicle either moving or stationary, move the select lever from the "D" position to the "M" position to select the manual mode. 1) Upshift indicator 2) Downshift indicator 3)
● On a road surface where there is a risk of wheelspin (for example, a snow- or gravel-covered road), you can pull away from a standstill safely and easily by first selecting the 2nd gear of
CAUTION Do not hold the steering wheel at the fully locked position left or right for more than 5 seconds. This may damage the power steering pump. The power steering system operates only when the
SEE MORE:
Choose a child restraint system that is appropriate for the child's age and size (weight and height) in order to provide the child with proper protection. The child restraint system should meet all applicable requirements of Federal Motor Vehicle Safety Standards for United States or Canad
General Description A: SPECIFICATION Offset P.C.D. NOTE: Size and inflation pressure of the standard equipment tire and spare tire for emergency are described on the "Tire inflation pressure" label attached to the body side of the driver's door. 1. SERVICE DATA B: COMPONENT TPMS & ke
© 2010-2023 Copyright www.suoutback.com