Subaru Outback: Vehicle placard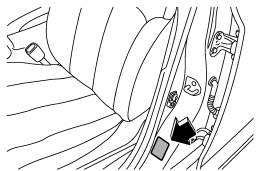 The vehicle placard is affixed to the driver's side B-pillar.
Example: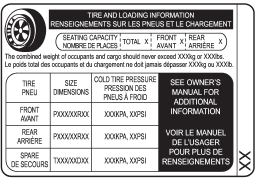 The vehicle placard shows original tire size, recommended cold tire inflation pressure on each tire at maximum loaded vehicle weight, seating capacity and loading information.
READ NEXT:
Driving at high speeds with excessively low tire pressures can cause the tires to flex severely and to rapidly become hot. A sharp increase in temperature could cause tread separation, and failure
Check and, if necessary, adjust the pressure of each tire (including the spare) at least once a month and before any long journey. Check the tire pressures when the tires are cold. Use a pressure
● Accessory weight The combined weight (in excess of those standard items which may be replaced) of automatic transmission, power steering, power brakes, power windows, power seats, radio,
SEE MORE:
A: REMOVAL 1) Lift up the vehicle, and then remove the front wheels. 2) Remove the front strut. Place an alignment mark on the camber adjusting bolt and strut. Remove the brake hose bracket. Remove the ABS wheel speed sensor harness. Remove the two bolts securing the front axle housing t
CAUTION Do not turn the ignition switch to the "START" position while the engine is running. The engine is started in this position. The starter cranks the engine to start it. When the key is released (after the engine has started), the key automatically returns to the "ON" position.
© 2010-2021 Copyright www.suoutback.com