Subaru Outback: Volume control switch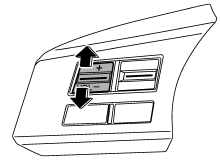 Press the switch to the "+" side to increase the volume. Press the switch to the "−" side to reduce the volume. A number indicating the volume will be shown on the audio display.
READ NEXT:
Press this button if you wish to immediately cut the volume to zero. The audio display will show "MUTE". If you press the button again, the original sound volume will return and "MUTE" tu
NOTE ● For models with the genuine SUBARU navigation system, refer to the Owner's Manual supplement for the navigation system. ● When selling your vehicle, make sure that you initial
Bluetooth® NOTE The Bluetooth word mark and logo are registered trademarks of Bluetooth SIG, Inc. It is possible to connect a cell phone to the in-vehicle equipment through the Bluetooth ® fo
SEE MORE:
1. Pull off the fender lining. For details, refer to "Pulling off the fender lining" F11- 7. 2. Remove the bulb cover, by turning it counterclockwise. 3. Disconnect the electrical connector. 4. Remove the retainer spring. 5. Replace the bulb, then set the retainer spring securely.
General Description A: CAUTION Wear appropriate work clothing, including a cap, protective goggles and protective shoes when performing any work. Remove contamination including dirt and corrosion before removal, installation or disassembly. Keep the disassembled parts in order and protect t
© 2010-2022 Copyright www.suoutback.com