Subaru Outback: When checking or servicing in the engine compartment (2.5 L non-turbo models)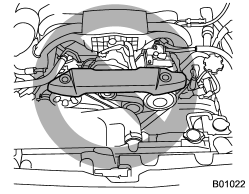 CAUTION
Do not contact the belt cover while checking the components in the engine compartment. Doing so may cause your hand to slip off the belt cover and result in an unexpected injury.
READ NEXT:
WARNING A running engine can be dangerous. Keep your fingers, hands, clothing, hair and tools away from the cooling fan, belts and any other moving engine parts. Removing rings, watches and ties
Some clips and fender linings must be removed before replacing the air cleaner elements or specific bulbs.
Removing clips There are several types of clips used for your vehicle Type A clips 1. Turn the clips counterclockwise using a flat-head screwdriver until the center portion of the clip is raise
SEE MORE:
Use this function to find your vehicle parked among many vehicles in a large parking lot. Provided you are within 30 feet (10 meters) of the vehicle, pressing the "" button three times in a 5-second period will cause your vehicle's horn to sound once and its turn signal lights to flash
AT models 1) Yellow handle 1. Park the vehicle on a level surface and stop the engine. 2. Pull out the level gauge, wipe it clean, and insert it again. 1) Upper level 2) Lower level 3. Pull out the level gauge again and check the oil level on it. If it is below the lower level, add oil t
© 2010-2023 Copyright www.suoutback.com