Subaru Outback: Windshield wiper blade assembly
1. Raise the wiper arm off the windshield.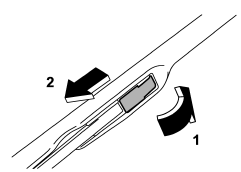 1) Open the cover
2) Pull down the wiper blade
2. Remove the wiper blade assembly by opening the cover and pulling it down in the direction shown in the illustration.
3. Install the wiper blade assembly to the wiper arm. Make sure that it locks in place.
4. Hold the wiper arm by hand and slowly lower it in position.
READ NEXT:
1) Support 1. Grasp the locked end of the blade rubber assembly and pull it firmly until the stoppers on the rubber are free of the support. 1) Metal spines 2. If the new blade rubber is not
1. Raise the wiper arm off the rear window. 2. Turn the wiper blade assembly counterclockwise. 3. Pull the wiper blade assembly toward you to remove it from the wiper arm.
1. Pull out the end of the blade rubber assembly to unlock it from the plastic support. 2. Pull the blade rubber assembly out of the plastic support. 1) Metal spines 3. If the new blade rub
SEE MORE:
1. Apply a flat-head screwdriver to the light cover as shown in the illustration, and pry the light cover off from the rear gate trim. 1) Back-up light 2) Tail light 2. Turn the bulb socket counterclockwise and remove it. 3. Pull the bulb out of the bulb socket and replace it with a new
A: SPECIFICATION 1. MANUAL TRANSMISSION AND DIFFERENTIAL 2. TRANSMISSION GEAR OIL Recommended oil: GL-5 (75W-90) or equivalent B: COMPONENT 1. TRANSMISSION CASE Transmission case ASSY Gasket Drain plug Harness clip Clamp Harness bracket Oil level gauge Transmission radio ground cord Sele
© 2010-2023 Copyright www.suoutback.com