Subaru Outback: A/C – Air conditioner button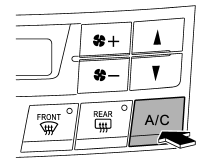 If the windshield starts to fog when the climate control system is operated in the AUTO mode, press the air conditioner button "A/C" to defog and dehumidify. When this button is pressed, the air conditioner compressor turns on and the indicator light "A/C" on the display illuminates.
To turn off the air conditioner compressor, press the "A/C" button again.
NOTE
The air conditioner compressor does not operate when the outside air temperature is below 328F (08C).
READ NEXT:
Select the desired airflow mode by pressing the airflow mode selection button. The selected airflow mode is shown on the display. There are four airflow modes that activate the following air outl
Select airflow by pressing the air inlet selection button "". ON position (recirculation): Interior air is recirculated inside the vehicle. Press the air inlet selection button to the ON posi
1) Solar sensor 2) Interior air temperature sensor The automatic climate control system employs several sensors. These sensors are delicate. If they are treated incorrectly and become damaged, t
SEE MORE:
When in the SAT mode, press the "SEEK" button "" or "" continuously to change to the channel selection mode. Pressing the "SEEK" button "" changes the channel up by 10 steps each time. Pressing "" changes the channel down by 10 steps each time.
Press the "PTY/CAT" button to change to the PTY selection mode. At this time, the PTY group that you are currently listening to will be displayed for 10 seconds. In PTY selection mode, "PTY SEL" is displayed on the screen. PTY (Program type) group selection In PTY selection mode, p
© 2010-2022 Copyright www.suoutback.com