Subaru Outback: Checking the brake pedal free play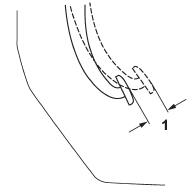 1) 0.08 – 0.18 in (2 – 5 mm)
Stop the engine and firmly depress the brake pedal several times. Lightly pull the brake pedal up with one finger to check the free play with a force of less than 2 lbf (10 N, 1 kgf).
If the free play is not within proper specification, contact your SUBARU dealer.
READ NEXT:
1) More than 2.56 in (65 mm) Depress the pedal with a force of approximately 66 lbf (294 N, 30 kgf) and measure the distance between the upper surface of the pedal pad and the floor. When the me
Check the clutch pedal free play and reserve distance according to the maintenance schedule in the "Warranty and Maintenance Booklet".
Check the clutch engagement and disengagement. 1. With the engine idling, check that there are no abnormal noises when the clutch pedal is depressed, and that shifting into 1st or reverse feels smo
SEE MORE:
1. Pull off the fender lining. For details, refer to "Pulling off the fender lining" F11- 7. 2. Remove the bulb cover, by turning it counterclockwise. 3. Disconnect the electrical connector. 4. Remove the retainer spring. 5. Replace the bulb, then set the retainer spring securely.
A: REMOVAL 1) Disconnect the ground cable from battery and wait for at least 60 seconds before starting work. 2) Remove the front bumper face assembly. Remove the clips, turn over the front mud guard, and disconnect the fog light connector. (Model with fog light) Remove the clips at the u
© 2010-2023 Copyright www.suoutback.com