Subaru Outback: Checking the brake pedal free play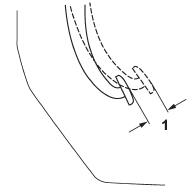 1) 0.08 – 0.18 in (2 – 5 mm)
Stop the engine and firmly depress the brake pedal several times. Lightly pull the brake pedal up with one finger to check the free play with a force of less than 2 lbf (10 N, 1 kgf).
If the free play is not within proper specification, contact your SUBARU dealer.
READ NEXT:
1) More than 2.56 in (65 mm) Depress the pedal with a force of approximately 66 lbf (294 N, 30 kgf) and measure the distance between the upper surface of the pedal pad and the floor. When the me
Check the clutch pedal free play and reserve distance according to the maintenance schedule in the "Warranty and Maintenance Booklet".
Check the clutch engagement and disengagement. 1. With the engine idling, check that there are no abnormal noises when the clutch pedal is depressed, and that shifting into 1st or reverse feels smo
SEE MORE:
To activate the right turn signal, push the turn signal lever up. To activate the left turn signal, push the turn signal lever down. When the turn is finished, the lever will return automatically. If the lever does not return after cornering, return the lever to the neutral position by hand.
The treadwear grade is a comparative rating based on the wear rate of the tire when tested under controlled conditions on a specified government test course. For example, a tire graded 150 would wear one and one-half (1- 1/2) times as well on the government course as a tire graded 100. The rela
© 2010-2020 Copyright www.suoutback.com