Subaru Outback: Checking the brake pedal free play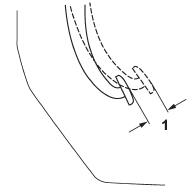 1) 0.08 – 0.18 in (2 – 5 mm)
Stop the engine and firmly depress the brake pedal several times. Lightly pull the brake pedal up with one finger to check the free play with a force of less than 2 lbf (10 N, 1 kgf).
If the free play is not within proper specification, contact your SUBARU dealer.
READ NEXT:
1) More than 2.56 in (65 mm) Depress the pedal with a force of approximately 66 lbf (294 N, 30 kgf) and measure the distance between the upper surface of the pedal pad and the floor. When the me
Check the clutch pedal free play and reserve distance according to the maintenance schedule in the "Warranty and Maintenance Booklet".
Check the clutch engagement and disengagement. 1. With the engine idling, check that there are no abnormal noises when the clutch pedal is depressed, and that shifting into 1st or reverse feels smo
SEE MORE:
A: COMPONENT 1. AT SELECT LEVER Cover grip AT Button ASSY-AT Clamp grip pin Grip ASSY sub Rod COMPL Cover grip AT Indicator ASSY Arm ASSY Selector lever COMPL Plate guide Rod detent Detent spring Clamp push nut Clamp push nut Clamp pin Spacer pin guide Plate COMPL Shaft control
Always block the wheels under both vehicle and trailer when parking. Apply the parking brake. You should not park on a hill or slope. But if parking on a hill or slope cannot be avoided, you should take the following steps: 1. Apply the brakes and hold the pedal down. 2. Have someone place whe
© 2010-2023 Copyright www.suoutback.com