Subaru Outback: Connecting a trailer
1. Remove the receiver cover from the hitch receiver tube. Then insert the ball mount into the hitch receiver tube.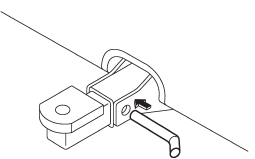 2. Insert the hitch pin into the hole on the hitch receiver tube so that the pin passes through the ball mount.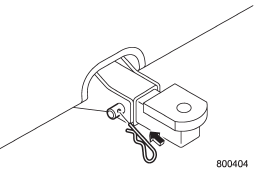 3. Insert the safety pin onto the hitch pin securely.
4. Pull the ball mount to make sure it does not come off the hitch receiver.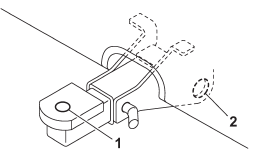 1) Hitch ball installation point 2) Hooks for safety chains
5. Use only a hitch ball that is appropriate for the ball mount and your trailer. The hitch ball must be securely installed on the ball mount.
6. Connect your trailer to the hitch ball.
7. Connect the trailer and the hitch with safety chains that will hold the trailer's maximum gross weight. The chains should cross under the trailer tongue to prevent the tongue from dropping onto the ground in case it should disconnect from the hitch ball. Allow sufficient slack in the chains taking tight turn situations into account; however, be careful not to let them drag on the ground.
WARNING
Do not connect safety chains to part of the vehicle other than the safety chain hooks.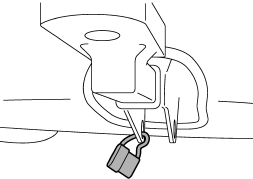 Hitch harness connector
8. Connect the hitch wire harness's black four-pin wire connector to the towing trailer's wire harness.
9. Confirm proper function of the hitch wire harness by individually activating the brake, stop and turn signal lights on the trailer.
NOTE
Always disconnect the trailer wire harness before launching or retrieving a watercraft.
READ NEXT:
● Remove the ball mount from the hitch receiver tube and insert the receiver cover onto the hitch receiver tube. ● Place the dust cap over the four-pin connector of the hitch wire harne
Your vehicle is designed and intended to be used primarily as a passenger-carrying vehicle. Towing a trailer puts additional loads on your vehicle's engine, drivetrain, brakes, tires and suspens
vehicle damage or malfunction caused by trailer towing. If you use your vehicle to tow a trailer, more frequent maintenance will be required due to the additional load. (Refer to "Maintenance sc
SEE MORE:
The HomeLink® Wireless Control System can be used to activate remote control devices such as gate operators, garage door openers, door locks, home lighting and security systems. There are three HomeLink® buttons on the mirror, each of which can be programmed for operation of one desired dev
WARNING ● Battery fluid is SULFURIC ACID. Do not let it come in contact with the eyes, skin, clothing or the vehicle. If battery fluid gets on you, thoroughly flush the exposed area with water immediately. Get medical help if the fluid has entered your eyes. If battery fluid is accident
© 2010-2023 Copyright www.suoutback.com