Subaru Outback: Trailer hitch (Outback — if equipped)
WARNING
● Never exceed the maximum weight specified for the trailer hitch. Exceeding the maximum weight could cause an accident resulting in serious personal injuries. Permissible trailer weight changes depending on the situation. For possible recommendations and limitations, refer to "Trailer towing" F8-19.
● Trailer brakes are required when the towing load exceeds 1,000 lbs (453 kg). Be sure your trailer has safety chains and that each chain will hold the trailer's maximum gross weight. Towing trailers without safety chains could create a traffic safety hazard if the trailer separates from the hitch due to coupling damage or hitch ball damage.
● Be sure to check the hitch pin and safety pin for positive locking placement before towing a trailer. If the ball mount comes off the hitch receiver, the trailer could get loose and create a traffic safety hazard.
● Use only the ball mount supplied with this hitch. Use the hitch only as a weight carrying hitch. Do not use with any type of weight distributing hitch.
The trailer hitch is designed to tow a Class 1 rated load. The maximum gross trailer weight and maximum gross tongue weight are indicated in the following table.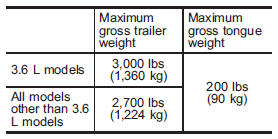 When you tow a trailer, refer to "Trailer towing" F8-19.
READ NEXT:
1. Remove the receiver cover from the hitch receiver tube. Then insert the ball mount into the hitch receiver tube. 2. Insert the hitch pin into the hole on the hitch receiver tube so that the
● Remove the ball mount from the hitch receiver tube and insert the receiver cover onto the hitch receiver tube. ● Place the dust cap over the four-pin connector of the hitch wire harne
Your vehicle is designed and intended to be used primarily as a passenger-carrying vehicle. Towing a trailer puts additional loads on your vehicle's engine, drivetrain, brakes, tires and suspens
SEE MORE:
If a malfunction occurs in the EBD system, the system stops working and the brake system warning light and ABS warning light illuminate simultaneously. The EBD system may be malfunctioning if the brake system warning light and ABS warning light illuminate simultaneously during driving. Even
A: REMOVAL 1) Remove the transmission assembly from the vehicle. <Ref. to 5AT-37, REMOVAL, Automatic Transmission Assembly.> 2) Remove the rear vehicle speed sensor, and separate the extension case from transmission case. <Ref. to 5AT-65, REMOVAL, Extension Case.> 3) Extract the rear
© 2010-2023 Copyright www.suoutback.com