Subaru Outback: Examples of the types of accidents in which it is possible that the SRS side airbag and the SRS curtain airbag will deploy (Outback).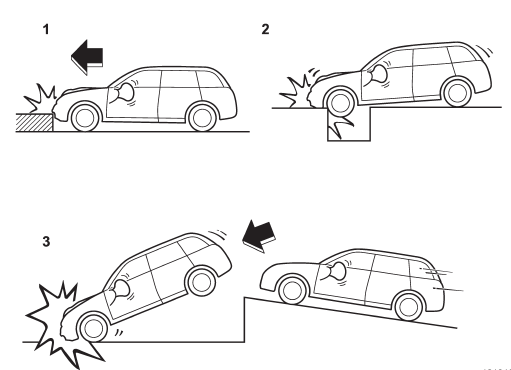 1) Hitting a curb, edge of pavement or hard surface 2) Falling into or jumping over a deep hole 3) Landing hard or vehicle falling
It is possible that the SRS side and curtain airbags will deploy if a serious impact occurs to the underside of your vehicle. Some examples are shown in the illustration.
READ NEXT:
1) The vehicle is involved in an oblique side-on impact. 2) The vehicle is involved in a side-on impact in an area outside the vicinity of the passenger compartment. 3) The vehicle strikes a tel
Outback models 1) The vehicle is involved in an oblique side-on impact. 2) The vehicle is involved in a side-on impact in an area outside the vicinity of the passenger compartment. 3) The vehic
1) The vehicle is involved in frontal collision with another vehicle (moving or stationary). 2) The vehicle is struck from behind. 3) The vehicle pitches end over end. In the event of accidents
SEE MORE:
A: REMOVAL 1) Remove the manual transmission assembly from the vehicle. <Ref. to 6MT-25, REMOVAL, Manual Transmission Assembly.> 2) Remove the back-up light switch and the neutral position switch. <Ref. to 6MT-37, REMOVAL, Switches and Harness.> 3) Remove the transfer case together wit
● If the lock lever is turned to the rear ("LOCK") position with the driver's door open and the driver's door is then closed with the lock lever in that position, the driver's door is locked. . If the spare key is used to lock the driver's door from the outside of the vehicle
© 2010-2023 Copyright www.suoutback.com