Subaru Outback: Front seats
WARNING
● Never adjust the seat while driving to avoid the possibility of loss of vehicle control and of personal injury.
● Before adjusting the seat, make sure the hands and feet of rear seat passengers or cargo are clear of the adjusting mechanism.
● After adjusting the seat, push it slightly to make sure it is securely locked. If the seat is not securely locked, it may move or the seatbelt may not operate properly.
● Do not put objects under the front seats. They may interfere with front seat locking and cause an accident.
● Seatbelts provide maximum restraint when the occupant sits well back and upright in the seat. To reduce the risk of sliding under the seatbelt in a collision, the front seatbacks should be always used in the upright position while the vehicle is running. If the front seatbacks are not used in the upright position in a collision, the risk of sliding under the lap belt and of the lap belt sliding up over the abdomen will increase, and both can result in serious internal injury or death.
● The SRS airbags deploy with considerable speed and force. Occupants who are out of proper position when the SRS airbag deploys could suffer very serious injuries. Because the SRS airbag needs enough space for deployment, the driver should always sit upright and well back in the seat as far from the steering wheel as practical while still maintaining full vehicle control and the front passenger should move the seat as far back as possible and sit upright and well back in the seat.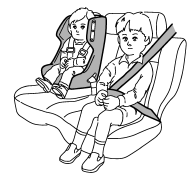 WARNING
Put children in the rear seat properly restrained at all times. The SRS airbag deploys with considerable speed and force and can injure or even kill children, especially if they are not restrained or improperly restrained. Because children are lighter and weaker than adults, their risk of being injured from deployment is greater. Consequently, we strongly recommend that ALL children (including those in child seats and those that have outgrown child restraint devices) sit in the REAR seat properly restrained at all times in a child restraint device or in a seatbelt, whichever is appropriate for the child's age, height and weight.
Secure ALL types of child restraint devices (including forward facing child seats) in the REAR seats at all times.
NEVER INSTALL A REARWARD FACING CHILD SEAT IN THE FRONT SEAT. DOING SO RISKS SERIOUS INJURY OR DEATH TO THE CHILD BY PLACING THE CHILD'S HEAD TOO CLOSE TO THE SRS AIRBAG. According to accident statistics, children are safer when properly restrained in the rear seating positions than in the front seating positions. For instructions and precautions concerning child restraint systems, refer to "Child restraint systems" F1-25.
READ NEXT:
Pull the lever upward and slide the seat to the desired position. Then release the lever and try to move the seat back and forth to make sure that it is securely locked into place.
WARNING To prevent the passenger from sliding under the seatbelt in the event of a collision, always put the seatback in the upright position while the vehicle is in motion. Also, do no
SEE MORE:
WARNING ● When the electronic parking brake cannot be released, the electronic parking brake system may malfunction. Driving in such conditions may cause an unexpected accident. Contact your SUBARU dealer for inspection as soon as possible. ● You can release the electronic parking
SRS airbag system warning light A diagnostic system continually monitors the readiness of the seatbelt pretensioner while the vehicle is being driven. The seatbelt pretensioners share the control module with the airbag system. Therefore, if any malfunction occurs in a seatbelt pretensioner,
© 2010-2023 Copyright www.suoutback.com